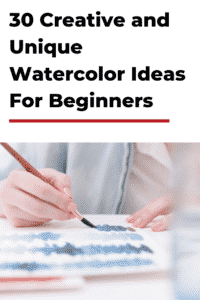 Getting creative is an excellent way to relieve stress, clear your mind, and have a little bit of fun. The simple act of making something can take you from being an uptight mess to channeling your energy into a project that will make you feel relaxed and accomplished by the end of it.
If you are looking to have some traditional fun while also creating something that you can be proud of in the end, these fun watercolor ideas for beginners just might be exactly what you need.
You do not have to be Pablo Picasso to make any of these beautiful DIY watercolor experiments, you just need the supplies and a little creativity.
1. Custom Watercolor Sneakers
Since the watercolor aesthetic is very popular right now, there has never been a better time to make yourself a cute pair of watercolor shoes. Though your parents might have told you to never paint or draw on your shoes, we have to assume that they would absolutely adore this creative look. Simply buy a pair of plain white shoes, pick a color or two, and let the paints seep right in. This looks particularly great as ombre.
2. Watercolor Signs For Game Day
Though traditional flags that you can buy at the store might be fun, we are in support of this creative alternative that involves choosing your team colors and making simple flags.
You can paint the colors in stripes, go for that trendy misshapen watercolor look that the medium is known for, or even paint a logo on top if you are feeling daring. No one will have more team spirit than you!
3. One Of A Kind Designer Watercolor Gift Bags
There is nothing more annoying than going to buy a gift bag for someone and realizing that the limited selection available just does not look up to par.
With this project, you can turn a simple white bag into a beautiful and artsy gift bag with a color that matches your recipient. With this fun watercolor idea for beginners, you can even paint their name once the color dries.
4. Exciting Geometric Watercolor Designs
Despite the fact that geometric designs look like they are all made by professionals, you can actually accomplish this task quite easily by drawing your design or outlining it with tape, and then letting your paint fly across it. Once the paint has dried, you will be amazed to see a stunning piece of art left behind.
5. Fun Name Tags
It might just be easier to take a piece of paper and fold it in half to make a name tag, but where is the fun in that? Using a little creativity and a splash of watercolor, any beginner can take a simple name card and turn it into a beautiful and thematic name plate that will look amazing at any event, especially weddings.
6. Your Very Own Custom Cards
Whether you are buying Christmas cards, thank you cards, or birthday cards, they can get seriously expensive. Now you can save on costs and put a little extra heart into any card you send by taking a plain white card and simply applying the watercolor of your choice. The result is stunning, and no one even has to know that you're a total beginner.
7. Chic Signs For Your Bedroom
Watercolor art as a look is very in right now, which is why it can be so fun to decorate your room with splashes of color and design throughout. By merely taking a sturdy piece of white paper and applying a color or two, you can make an easy image that looks like something you would buy in the store the second you apply a frame.
8. Pastel Watercolor Shoelaces
Shoelaces aren't generally the first thing that people think of when it comes to making custom pieces of art, but a colored pair of shoelaces with some white shoes can actually create a stunning visual effect.
All you have to do is mix some watercolor into water, dip your shoelaces, and let them dry. If you want to use two colors, a lighter and darker shade of the same color can make for a beautiful finish.
9. Rainbow Watercolor Picture
If there is any one shape that looks absolutely amazing in watercolor, the rainbow is it. Whether you're preparing for your next big pride event or you merely want to create a picture that a unicorn would be proud of, you are a few simple lines of paint away from making something creative and dazzling.
10. Ombré Watercolor Signs With A Name Or Word Of Your Choosing
This idea is increasing in popularity because word signs have proven time and time again to make a room absolutely pop. You can choose any word, or even use your own name, to make a beautiful sign with a watercolor base that will without question show everyone just how creative you are. You can buy the letters from your local craft store and go from there!
11. DIY Custom Notebook Covers
Fancy notebooks can be pretty expensive, which is why any beginner should take a chance at making their own. A simple watercolor notebook not only looks amazing, but allows you to make something fully custom for you to jot down your treasured ideas in.
12. Trendy Watercolor Mugs
There are few things more important on this planet than having a good mug so you can get your coffee, tea, or hot cocoa fix. Using minimal effort, you can use this unique watercolor idea to turn a plain white mug into a chic and trendy vessel that no one will believe you made yourself. Though this one technically relies on nail polish, the watercolor principles are still there.
13. Watercolor Easter Egg Decorations
Though a real egg will not hold if you leave it out for too long, buying a cardboard or wooden egg and dipping it in watercolor the same way you would dye an egg in your kitchen is a great way to make decorations that can stay with you year after year that you are certain to love.
Since you have probably been dying eggs since you were a child, you know the process, which makes this great for beginners. If you are feeling adventurous, there is no limit on how far you can take this.
14. Splash of (Water) Color Gift Tags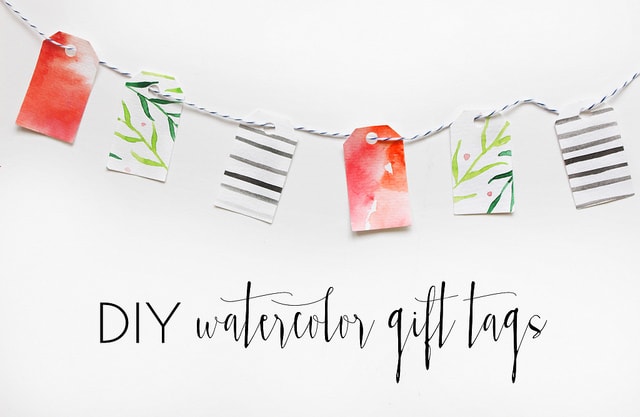 You do not have to be a brilliant artist to make these simple and stunning custom gift tags that just involve taking a plain white tag, picking a color, and spending a little time methodically splashing them with color. This creative effect is beautiful and is a unique watercolor idea that will bring a little extra love to any present you give.
15. Custom Watercolor Invites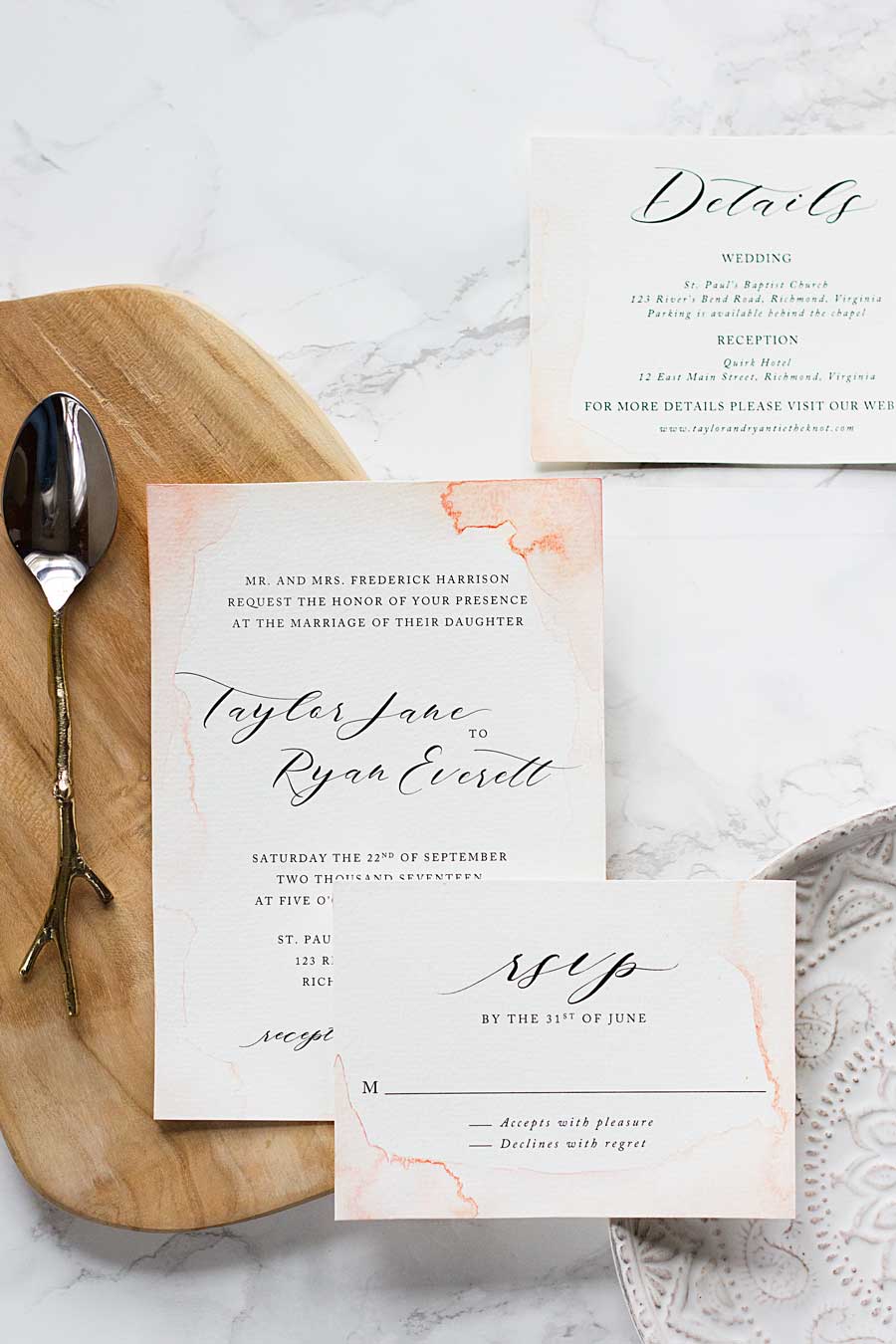 If you are planning a wedding or throwing a party, one great way to creatively cut costs is to make your own invites. Though you can certainly go fully custom and do all of the lettering yourself, a popular decision is to pay the bare minimum by ordering simple plain white invites and then adding a splash of water color that matches your theme on top.
16. Watercolor Wall Tiles
This fun and creative idea allows you to find a few key colors and apply them to poster board or even true tiles to create a beautiful wall art effect that will take you from beginner to professional overnight. As a pro-tip, the more of them you make in a few simple shades, the more delightful the overall effect is.
17. Watercolor Coasters For Every Season
Since coasters are a staple in pretty much every house, having custom coasters that change with the seasons is a great way to add a little extra color to your home.
Whether it's frosty blue for Winter or a vibrant pink for Spring, you will be ready to greet each new season with your creative new coasters. All you need is a plain white coaster and some paint!
18. Decorative Pillows Watercolor Idea for Beginners
Though you were most certainly never allowed to paint on the furniture, these watercolor pillows are perfect for bringing a little extra life into your living room.
Any beginner can take a plain white throw pillow and end up with a collection of beautifully designed watercolor throw pillows that are sure to make your main room pop.
19. Creative Mind Watercolor Idea for Beginner
This process involves a little bit of tracing beforehand to draw a brain, but then all you need to do is pick some primary and secondary colors for your mind, let them dry and go back over with a darker color, and the result will be an image that shows the world how creative your mind really is!
20. Crayon Watercolor Resists
Watercolor resists are a great watercolor idea for any beginner trying their hand at creative watercolor projects. In the same way that you draw on Easter eggs, you will take a white crayon and create a design of your choosing. After that is done, simply apply watercolor, and watch in amazement as your drawing comes to life.
21. Watercolor Makeup Holders
If you are looking to liven up your makeup containers, you can do so by getting some simple wooden boxes from your local arts and crafts store and applying watercolors to match the scheme of your bathroom. This idea will immediately breathe life into your bathroom setup and has the added bonus of making you look incredibly organized.
22. Watercolor To-Do Lists
To-do lists are not always fun, so why not try inspiring your household by taking a basic white to-do list and adding a pop of color to it? This allows you to take a somewhat boring list and turn it into something a little more creative and positive.
23. DIY Watercolor Bowls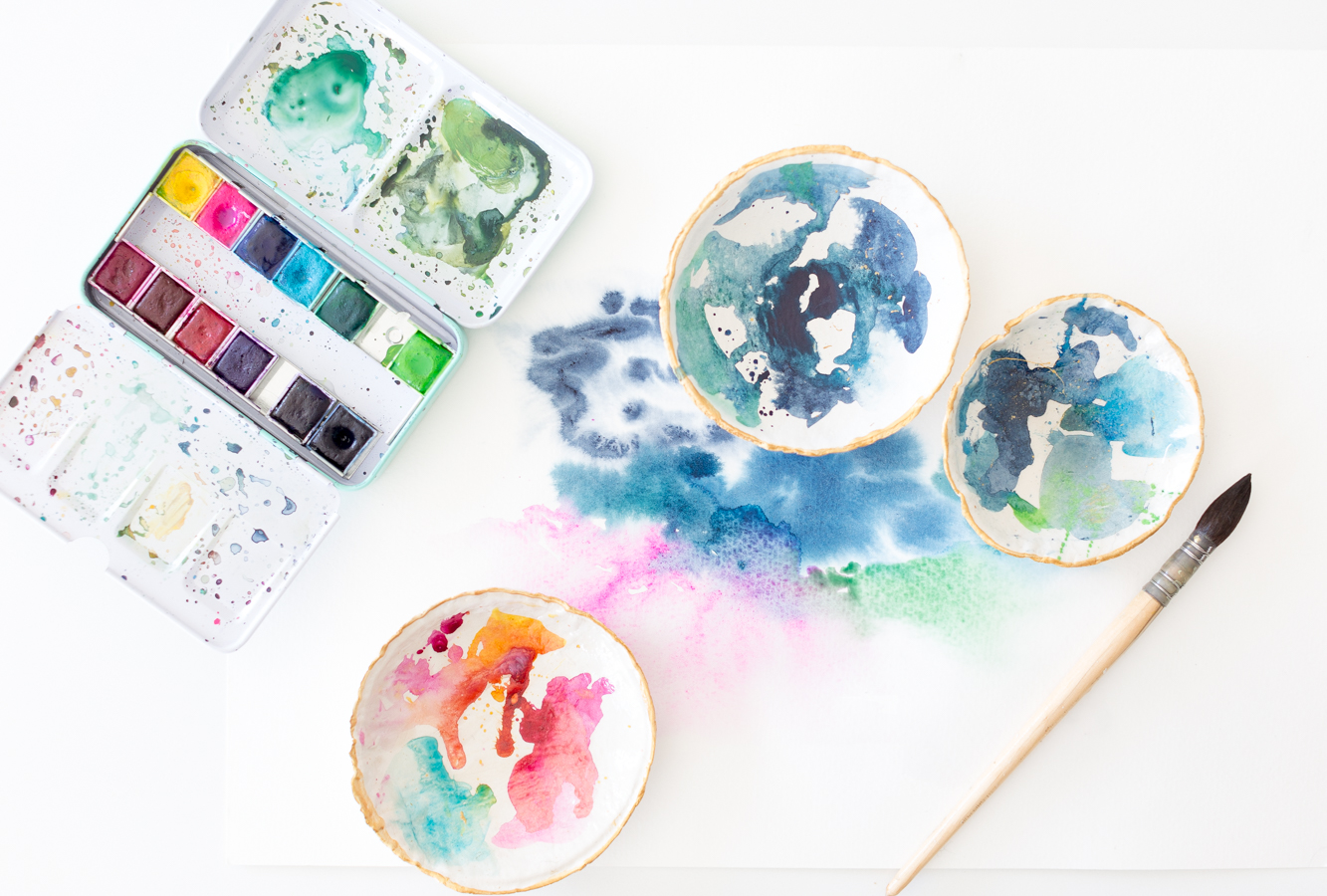 Watercolors can make some truly beautiful and mystical looks when applied properly, and the results that you get when creating your own watercolor bowls can be positively thrilling. This is a popular thing to do in the DIY community and can give you a beautiful new set of dishes at a fraction of the cost.
24. Vibrant Watercolor Ideas for Beginners Artist Decor
You might be a beginner, but chances are you have already fallen in love with watercolor art. If you want to show the world what kind of artist you are or make a cute artsy corner for a child's room, you can accomplish this by taking a watercolor paint tray, lightly applying watercolor to each of the color palettes, and then hang them on the wall with a couple of brushes for a cute look.
25. Watercolor Keepsake Box
Your favorite memories deserve to be kept in a box that shows how truly beautiful they are. By taking a simple wooden box and applying your watercolor preferences of choice, you can turn your memory box into something that makes you smile before you even open it.
26. Watercolor Placemats
Placemats are important for preserving the life of any table, which is why turning your cute watercolor painting into a a laminated placemat is a great way to combine fashion with function!
27. Watercolor Box Storage
Since open-faced boxes as storage in rooms is increasing in popularity, this idea suggested skipping the pre-colored options, buying white ones, and adding custom splashes of color that will match your room. This will liven any room, and it means you never have to worry about it not matching.
28. Watercolor Halloween Invites
Using a couple of different shades of red is a great way for any beginner to make beautifully terrifying invites for a Halloween party. Much like blood on a Petri dish, watercolor spreads well to make a spooky effect and can also be great when splattered. This can also be great for murder mystery parties!
29. Holiday Watercolor Tape Design Decorations
A fun idea for beginners is using tape to outline holiday shapes like a Christmas tree or Star of David. Simply apply your festive colors of choice, remove the tape, and impress all of your guests with your creative decorations.
30. Watercolor Bullet Journal
Since bullet journals are an excellent and creative way to manage your life, you can use watercolors to add a little extra beauty to your pages. With a few simple strokes or designs made with tape, you can bring your bullet journal to the next level to make it fully Instagram ready.
Read Also:
Conclusion
Any beginner needs a place to start, and when it comes to making art, your main focus should always be creativity and self expression. Trying your hand at any of these unique watercolor ideas for beginners is a great way to know how to paint and mix colors before you jump straight into making complex watercolor masterpieces.
At the end of the day, you just need to have fun and remember that practice makes perfect. Go here for more tips to help your with your creative passions!
What do you like to paint with watercolors?
Watercolor Painting FAQ
What are the steps to watercolor?
The basic steps to watercolor painting involve these steps. #1 Lightly draw your picture in pencil. #2 Paint your piece starting with light colors then going to dark colors. #3. Ink your piece when it's dry.
Can you use watercolor on canvas?
Normal canvas is not absorbent enough. It's best to get a watercolor canvas. That being said, it's possible to use a normal canvas with Golden Absorbent Ground.
What can I paint?
In this article, there are 30 ideas that are perfect for beginners to paint. They are simple to do and the results are fantastic.
How do I choose paint colors?
Start by picking colors that you like. As you get more into it, then research photographs that have attractive colors. Make a note of the colors in the photograph and use those colors as your color scheme for your next painting.