Are you in love with the Procreate App and want some Procreate tips for beginners?
Do you want to know some must-know Procreate tips and tricks that can help you get the most out of Procreate for illustration?
Are you in search of some hidden features that can help you to move around the Procreate interface like a pro?
If you are saying yes to all these questions, then it is your lucky day!
Today, in this article, we have got you covered with the 18 must-know to Procreate tips for beginners.
As this is an era of technology, so now and then, major technological changes take place that completely change the way of our personal as well as professional lives. If we talk about sketching and drawing, there are several trends that are transforming the visual art.
These trends positively affect the people who love to draw, paint, and sketch either as a career or as a hobby. There are various illustration applications and software in the market that provide a platform for artists, designers, and illustrators to work on their art digitally.
One such application is Procreate that has proved to be a GAME CHANGER in the field of digital art! It's not only a game-changer but also one of the must-have tools for drawing.
Other featured topics about Procreate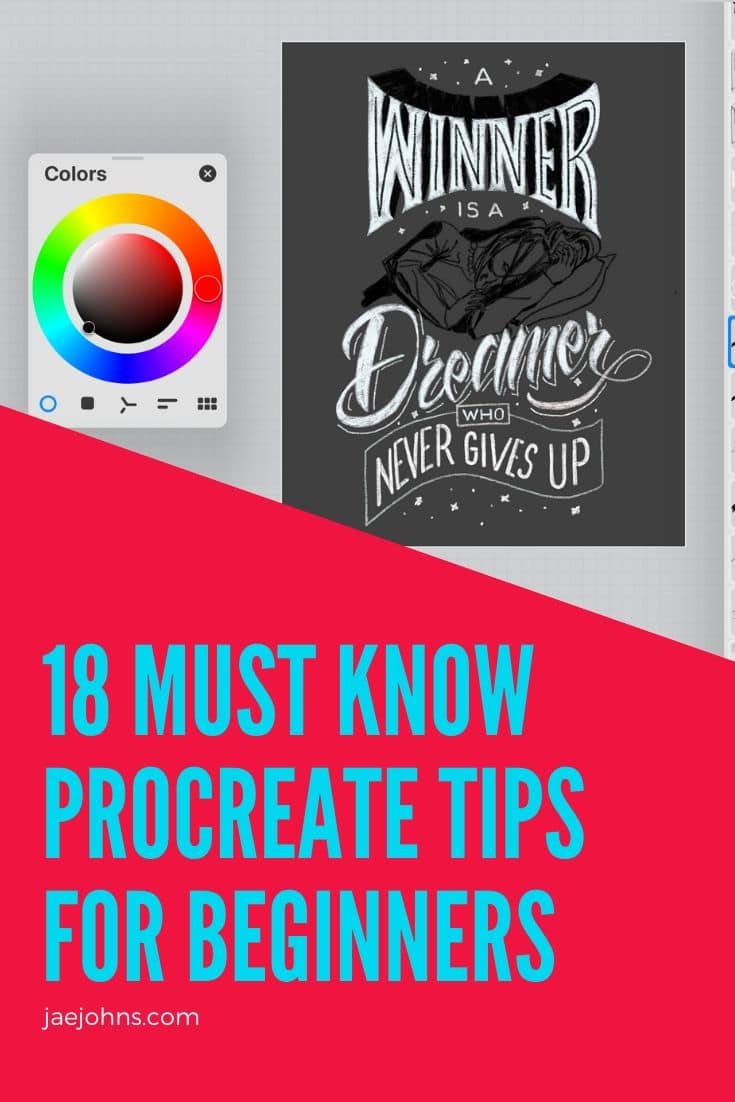 What exactly is Procreate?
Procreate is an incredible and powerful digital illustration app that comes with a lot of features that artists love. It comes with a minimalistic interface, not having a bunch of icons on the canvas. It does not mean that it has fewer features, but this app leaves the space clear for the artists so they can design their art without any interruption.
This painting and sketching app provides the ability to the artists to create their artwork easily by using more than 130 Procreate brushes. They can also edit, delete as well as share their work by using the Apple Pencil flawlessly.
If you don't have an Apple Pencil, here's what you need to know about using Procreate without an Apple Pencil.
This app is so responsive is such a way that it can allow you to feel like you are making the art on paper.
Procreate has completely transformed the way the artists approach and refine their work!
Yes! It is quite true! Available for iPad, the Procreate app allows the artists to recreate their experience of using paint, pencil, and pen by using the styling tools digitally. Believe me; it helps you in creating something that will also assist you in creating something else. In short, it is the most powerful drawing app that can rule all other drawing and illustration applications.
This app is specifically designed for professionals. But if you are a beginner, then do not worry as this app is quite easy to use. You can still create your beautiful piece of art digitally by using the default brushes. You can also download free Procreate brushes that some other artist has made.
As a beginner, to get the best out of this illustration app, you need to follow some basic techniques. In this article, we are going to share the top 18 must-know and time-saving Procreate tips and tricks every artist needs to know. Here, you will learn all the basics and everything that you need to know to draw on your iPad. Let's explore these Procreate beginner tips in detail.
Procreate Tips for Beginners
These days, there is an increasing trend of using bold as well as contrasting colors in illustrations. If you want to add bold and contrasting colors in your art using Procreate, then try using a color palette. Color Palette is an important feature of Procreate that is quite easy to use if you are a beginner.
It comes with incredible color combinations through which you can scroll, scroll, and scroll as the color combinations are just amazing! You can easily find and add color swatches. In Procreate, if you want to add color, you need to go to a color picker on the left menu bar and activate it.
Choose the color of your choice. Once you choose your color, it will appear in the color circle in the upper menu. After that, tap the color circle and save your favorite color as a swatch.
You can also set the palette to default settings so that the palette will remain active in other screens also. You can also save, share, import, and organize your palette in a Procreate Palette Library. Many artists may ignore the importance of creating and organizing color palettes, but it's one of the best Procreate tips and tricks for beginners.
Improve your Procreate watercolor painting with my Procreate Watercolor Brush Set. What I love about these brushes is it comes with a special template that helps you paint realistic watercolors very easily, video tutorials to help you get started, and more than a dozen brushes!
Record your Painting process in High Quality
Do you want to record a video of your painting process? Do you have a huge social media following, and you want to share your painting video on social media? If yes, then always try to record videos in high quality. You cannot change the quality of videos in the Procreate App, but you can change it through the settings of your iPad as go to Settings >> Procreate.
It will only make changes to the quality of your new artwork. If the previous videos are recorded with low-quality pixels, they will remain as-it-is. Always keep in mind that if you record videos in high quality, the video file will become larger, and it will take longer to export.
Flip the Canvas
Do you want to see your art with fresh eyes? The answer is simple. Flip your canvas!
Flipping the canvas horizontally and vertically is one of the essential Procreate tips for beginners. All you need to do is Go to Actions >> Canvas >> Flip Canvas and enjoy looking at your work from an entirely different perspective.
Many expert artists and designers use this technique to see how their artwork will look when it is flipped side to side or up and down. If you want to know about the proportion as well as composition problems of your art, then try flipping your canvas.
Whether you're learning how to draw dogs or how to draw an elaborate city scene, this tip will help reveal hidden problems in your drawings!
Flipping your canvas is the equivalent of creating art and then setting it aside for a few days, then coming back to it with a fresh point-of-view. This is one of the greatest Procreate tips and tricks for beginners that every artist should do.
For making impressive illustrations, it is very crucial to organize your work with the help of layers. Always try to name each layer, so you do not have to face problems when you need to edit the layers or navigate between them. The layers in the Procreate app comes with general settings, opacity setup, as well as blend options that can help you more in organizing your overall composition.
Many digital artists may not take the time to organize and name their layers, but this is one of the best Procreate beginner tips that will help you navigate your layers more efficiently.
Turn on Alpha Lock
In addition to using layers in your composition, you need to turn on an Alpha lock on a layer to fill it with colors. Alpha Lock Fill Layer Method is a great feature of Procreate that can assist you in recoloring the individual layers. After turning it on, you need to select the color of your choice from a dropdown option and activate a new swatch.
Use a Color Drop Technique
Apart from recoloring the layers using Alpha Lock, you can also recolor a single shape in your illustration. For this, you need to use a Color Drop technique. Color Drop technique is a powerful recoloring method. All you need to do is select the shape and then choose the color of your choice.
Drag it over to the shape on which you want to color. If the shape on which you want a color is closed from all sides, then a color drop technique will recolor that specific shape; otherwise, the entire layer will be filled with the color!
At times, while working on complex illustrations, the color drop technique works slowly. At this time, the Alpha Lock Fill Layer Method can assist you by changing the color of an entire layer or shape.
Make a video of the whole drawing process using a Screen Recorder
Want to record your whole drawing process but do not like the look and feel of Procreate recording? Try using a screen recorder. Believe me; it is one of the major Procreate tips for beginners.
The reason is when you try to zoom in your video using Procreate recording, it seems like nothing is happening, and the video is stuck. But in case of a screen recorder, you can easily witness all the steps in your composition when you zoom in your video.
Try to add a layer of noise
To kick start your digital drawing and painting skills, you need to add a layer of noise. This technique can help a lot in making the illustration look more organic.
Manipulate the shading area using masks
One of the basic and important Procreate tips and tricks is to manipulate the shading area using masks.
There are a lot of people who use the app's alpha lock functionality to create shading.
But the fact is using an alpha lock to create shading is not an effective process as you cannot remove it once it is applied to the layer. Instead, try using the masks to create shading so you can have complete control over your shading area.
You can find a detailed guide on how to use Procreate masks here.
For creating various effects in your layers, try to use Liquify, a powerful feature of Procreate. To enter the interface of Liquify, all you need to do is go to the "Adjustments" tab and then find "Liquify."
The best part is by using Liquify, you can paint on your canvas using an Apple pencil or a finger, and it adds effect in your artwork just like a brush. In short, Liquify helps a lot in creating magnificent effects in your artwork!
A few years back, there were not so many shape tools in the Procreate illustration app. When the artists wanted to add some shapes in their work, they need to use another application to draw the shapes and then import them to Procreate. But now, the recent version of Procreate app comes with a phenomenal feature by which you can draw a shape with your finger or Apple pencil and let the app to give it a smooth look. This feature is known as Quick Shape.
Now, you do not need to worry about creating a perfect triangle or circle in your composition, as Quick Shape can do for you!
In short, Quick Shape is an easy to use tool that is very beneficial for artists, designers, and illustrators as it helps them to create perfect shapes in their work.
Using blend modes in design is another important technique in our list of must-know Procreate tips for beginners. It helps a lot in creating unique illustrations and transforming the overall appearance. There are mainly five blend modes that Procreate offers. These include light, dark, difference, contrast, and color.
Group the layers together
If you have more layers in your artwork, it is always better to name your layers. For organizing your layers easily, you can also group your layers together and then give a particular name to a group.
As a beginner, for creating a fantastic digital art using Procreate, you need to activate symmetry. By using this amazing feature, your drawing will be reflected on the other side of the canvas. This is not only one of the best Procreate tips and tricks for beginners but also it is a tip that will save you lots of time!
Want to add text in your design but do not know much about typography? Use the latest text tool in Procreate. Another essential Procreate trick is to use a text tool for adding text in your illustration. It is an amazing tool by which you can edit your design. Moreover, this tool also allows the designers to add various font sizes, types, and as well as alignment of text.
Use Streamline
For getting better control over your lines and to give a smooth touch to your artwork, you need to use a streamlined feature of Procreate. This is one of the best Procreate beginner tips that will really help you if have problems with shaky hands.
Use Filters
One of the crucial Procreate tips for beginners is to use some filters to enhance what you have drawn. Filters play a vital role in adding a final touch to your illustrations. Head over to the "Adjustment" tab in Procreate to find different filters.
Use a variety of Brushes
Always try to use a variety of brushes in your drawing. You can use the default brushes or can also download them.
Get realistic watercolors easily with my Procreate Watercolor Brush Set. What I love about these brushes is it comes with a special template that helps you paint realistic watercolors very easily, video tutorials to help you get started, and more than a dozen brushes!
Conclusion
Procreate is an amazing app by which you can draw anytime and anywhere. Made especially for Apple's iPad, this painting, illustration, and sketching app allows the people to create art digitally instead of using traditional art tools.
Think outside the box by using the app's unique power for making the art!
Now, you can become a talented illustrator by following the above-mentioned Procreate tips for beginners. Believe me; if you are just getting started with this app, these tips will assist you in getting the most out of the program.