To build a portfolio website from scratch is easier than you might realize. It will take you in as little as 30 minutes to build your portfolio website and have it on the internet for people to visit.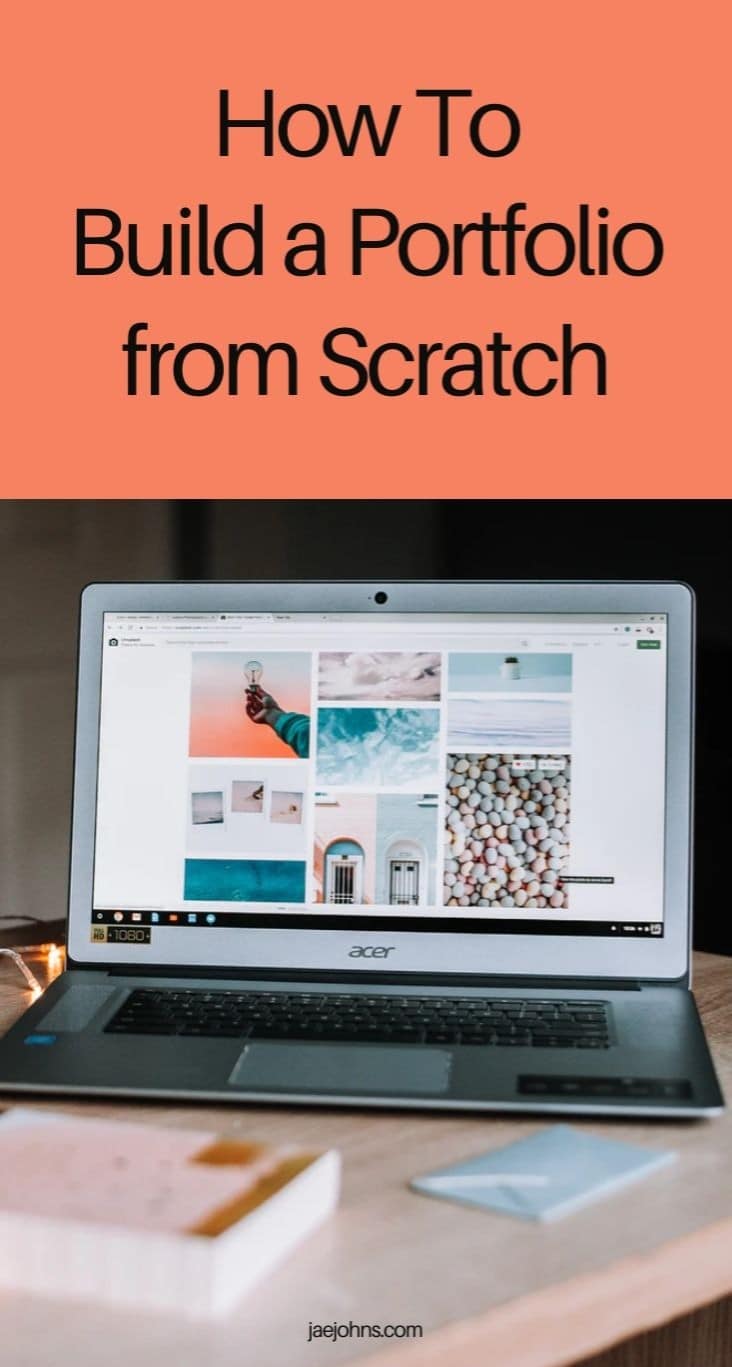 DISCLOSURE: THIS POST MAY CONTAIN AFFILIATE LINKS, MEANING I GET A COMMISSION IF YOU DECIDE TO MAKE A PURCHASE THROUGH MY LINKS, AT NO COST TO YOU. PLEASE READ MY DISCLOSURE FOR MORE INFO.
What is a portfolio site?
A portfolio website is a website, and it shows samples of your work. Think of a portfolio website like a visual menu of the work you do and the type of work you want to create. Whether you're a digital artist, a traditional painter, graphic designer, or UX designer.
A portfolio website is a necessary thing to help "advertise" your abilities, which can lead to getting more clients, building your artistic brand, collaborating with other people, or even connecting with new people.
Is it worth having a personal portfolio website?
Having a personal portfolio website is worth it, and in most cases, for artists, it is something you must have.
Unlike having your art or samples of your work on social media, your personal website is something you 100% own. Nobody can take it away from you.
If you were to only have samples of your work on an app like Instagram, then Instagram could make an algorithm change next week and you lose your followers.
When it comes to your work, the best business decision you can make for your brand is to have your personal portfolio website or what I like to refer to as your "digital home".
What can you do with a personal website?
There are many things you can do with a personal website. One thing I share with my art peers is the importance of building an email list.
Email lists are a great way to add another revenue stream to your art business. Did you know that around 90% of companies make most of their income through their email lists? Yes, email lists are that powerful.
I won't sugarcoat it though, it takes time to build an email list, and Instagram or any other social app for that matter cannot build your email list better than having a personal website.
Another thing you can do with your personal website is to earn passive income from it. If you don't know what passive income is, that means you earn money while you're sleeping, eating, spending time with loved ones, or even pooping.
I earn passive income with my personal website, and I will tell you from first-hand experience it feels great!
You can earn passive income by making products on your site and selling them through your personal website or by automatically earning money as more people visit your site. These are both things I do, and something I encourage for all artists.
From the examples listed above, I hope you can see a pattern. By having your personal website, it's something that you can earn money from. Instead of thinking that you can only earn money by producing art or whatever creative you're working on, you can have your personal website as another source to earn revenue for your art business.
What should be included in a personal portfolio website?
There are four sections that every client-attracting or job-seeking portfolio needs to be successful. These are in no random order but all are important
Contact – When making a portfolio website from scratch, having a contact page is one of the things most people think of adding. However, I'd like to share an insight on how to do it successfully and potentially bust a myth regarding this.
Should I have a contact form or list my email address on my website?
The truth is it doesn't matter. If someone wants to contact you, that person will contact you through a contact form, email, or even hunt down your social and contact you there. In my experiences when you list your email directly on the site, it leads to more chances of you getting spam messages. In that aspect, a contact form is better. However, if you're willing to accept the possibility of getting more spam messages then I recommend doing both.
About – Having an about page is important to share your story. Last month my about page increased in views of 142%.
With your about page, you want to talk about your mission. Why is it that you're doing what you're doing. Give these questions some deep thought and try to blend them in a story that sums up who you are.
Samples of Work – This is like the main actor in a movie. Most artists and creatives automatically think about and focus on this part to build a portfolio website from scratch.
This is important but the way you do it is even more important.
Avoid placing all your work on your site. You need to filter your work and place the best on there. It is better to have 3 amazing pieces of work on your site than 3 amazing and 2 only ok. If you have trouble figuring out which work or yours is amazing, then get input from other creative friends or post it on Instagram and see how many people engage with that piece of work.
If 20 people give you comments on a particular piece of work versus only 1 comment on another piece of work, that is a strong indication that you have created something that resonates.
Another thing you can try is to research the companies you want to work in. Often design companies or other creative companies show a portfolio of what they make. Study the company's portfolio and ask yourself, honestly, if the work you make can easily be side by side with that work.
If it can then you're very much on your way.
Articles of Progress – Most artists and creatives don't think about this and only focus on showing samples, but having educational-based content that helps give insights or show your process is huge.
Travis Neilson, a Google Interactive Designer, had a youtube channel called DevTips and a podcast, called Late Nights with Trav and Los. He did a video series showing the process of him applying to Google.
After he got the job at Google, he mentioned that Google was impressed by all the videos he made on his YouTube channel that helps the web design community.
Like I mentioned before, most artists don't think about producing content to help other artists but by doing this it pays off hugely.
Producing content in this caliber shows so much initiative and the fact that most artists don't do it is what will make you stand out.
In addition to that, the content you make will help attract more visitors to your site, which increases the chances of you getting more work.
In addition to that, you could then monetize your traffic and earn monthly passive income as I do.
How to build a portfolio website from scratch
Step 1 – Collect samples of your work
If you work digitally, then this should be relatively painless. All you have to do is save a jpeg of your work.
If you work with traditional mediums then you'll need to scan your work or use a smartphone. I use a smartphone because it's something I always carry with me and works very well.
Step 2 – Install WordPress by signing up with a hosting service
I highly recommend using WordPress because of these reasons:
Free (WordPress itself, not the hosting)
Extremely easy
Will be able to launch your portfolio site in a matter of minutes
By signing up with WordPress through Bluehost, you'll be using what's called a "self-hosted" provider, which will allow you to easily customize your site the way you want without limitations, easily add features like collecting emails, and as your traffic grows you will be able to earn passive income from the traffic you get
What makes a good hosting service?
The speed of the hosting service
Reliability that the hosting service stays up and doesn't crash
How many people are on the same server as you
Customer support
This is why I use Bluehost. I've been using them for a long time, I've never had my site crash on me. Also, their customer service is amazing. When I first signed up with them, I was trying to figure out how to configure my pre-purchased domain to redirect to their hosting servers.
They stayed with me for hours to guide me through the process and work with me until everything was up and running smoothly!
I like their service and if you're looking for a hosting service to create your portfolio website from scratch then I recommend them. By using my link (will take your to Bluehost) to purchase their hosting service, you can get a free domain and get your site up and running for nearly $3/month.
Choosing a portfolio theme
If you are working on your portfolio, then you're going to need a theme. Envato Elements is a great place to find themes for your site, no matter if you're a digital illustrator, painter, graphic designer, photographer, or in any other type of creative field.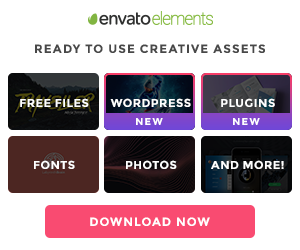 What I love about Envato is that for $29/month, I downloaded an unlimited number of templates, fonts, logos, photos, and many other types of assets that were ready-to-use in my projects.
Websites to create portfolios
Like I mentioned above, WordPress is what I use. You could use others like Wix, Squarespace, or just simply have your page on Behance.
What I like about WordPress though is that it's a site that helps me earn money in different ways that just making art.
I've gotten to the point in my life where time is becoming more important, and I don't want to keep trading hours to earn money. I want to be able to earn money while I sleep, on vacation, or spending time with my loved ones.
WordPress allows me to do that. It is not simply just a place where I can build my portfolio website from scratch, but also a platform that can scale my art business.
Here are some quick mentions of features that I like with WordPress:
I have unlimited power in customizing my site to the way I want. WordPress offers many plugins, many of them are free, which give your portfolio site new functions.
I can also easily add ways to collect email addresses. You might not think collecting emails is important, but do you know the number 1 way more than 90% of companies make their revenue? Yes! Email lists. Email lists are immensely powerful to grow your revenue for your business.
As long as you install WordPress through a hosting service like Bluehost, your site will be on a self-hosted platform, which will put you in an amazing position in the future to earn passive income from your site.
Easily add an online store, so you can sell your art or other products.
Conclusion
Whether you're a student trying to build a portfolio website from scratch or a veteran artist looking to take your art business to the next level, building a creative portfolio online isn't scary at all. It is extremely easy to do.
Although there are quite a few websites to create portfolios, I create a portfolio with WordPress for the many reasons I expressed above. I fully believe it's the best option to make a portfolio from scratch, whether you want to simply show off samples of your work or if you are thinking long-term and want something to sell products on your site or earn passive income from your site.
Question of the Day: What would you like to know in terms of building a portfolio from scratch that attracts people?