Are you a rising artist battling to make money? Has selling your art through Fine Art America ever crossed your mind?
If yes, you have landed exactly where you need to be!
Selling art only by way of dragging your paintings to a local gallery has become a long-lost tale.
The digital age has taken art by storm.
Everywhere your eyes wander, art is being sold in its utmost glory.
However, things become challenging for artists ransacking through online websites, like Fine Art America, that offer print-on-demand sales.
These websites are filled to the brim with artists trying to make money which makes people think it's near to impossible to sell their art in the rat race.
Feels like the market is way too crammed and you cannot make yourself any room to earn?
Trust me, that is far from the truth.
You can sell your art and you can make money on Fine Art America.
Let's see how!
Other Related Topics to Help You Make Money with Your Art: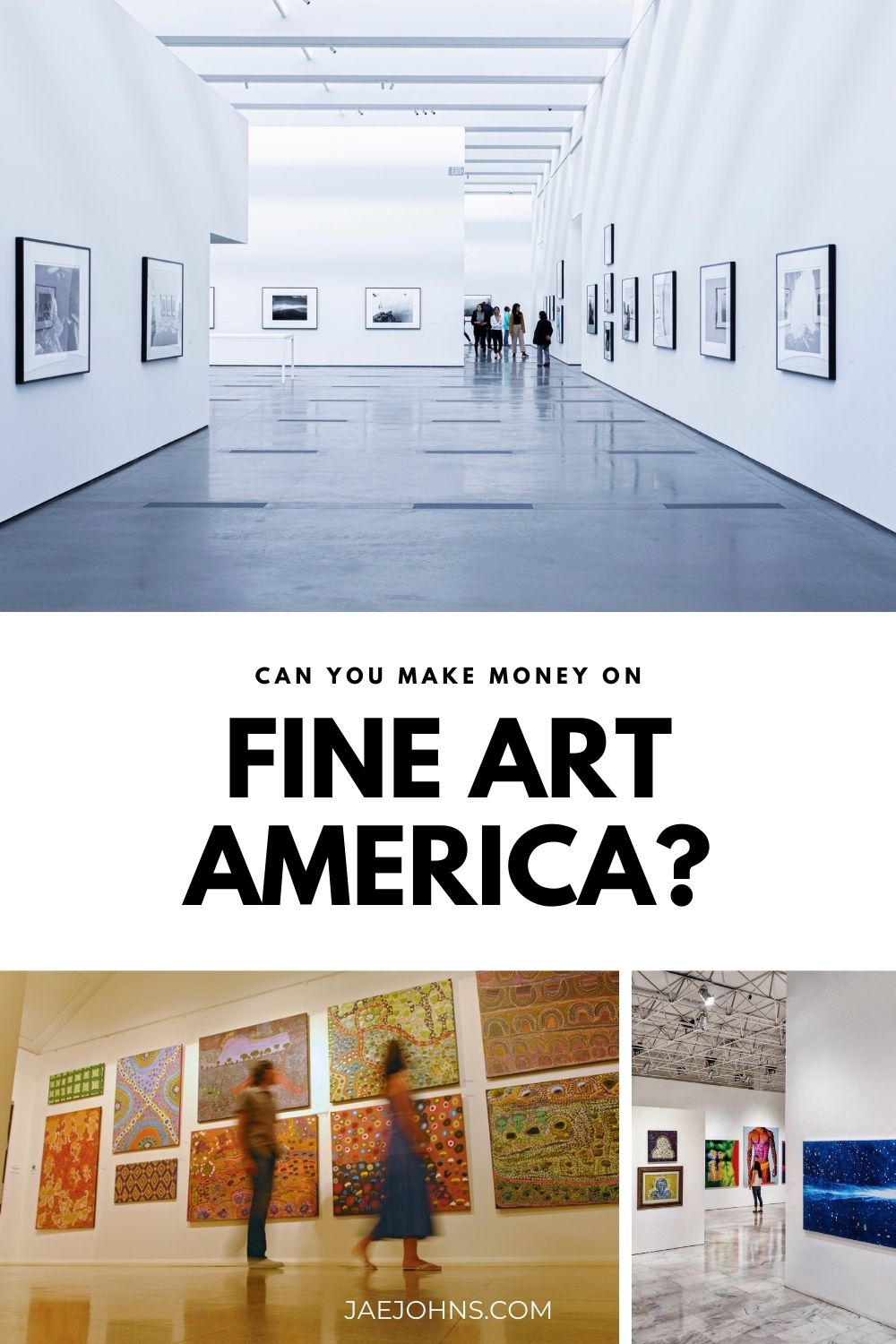 How much money can you make on Fine Art America
At Fine Art America, you can make as much money as you'd wish.
You decide on the prices you set – too high, too low, or average.
If you wish to make $200 on a specific work of yours, simply log into your account and set the price to $200. You can alter these prices at any time.
The pricing model of Fine Art America is rather straightforward.
There is a base price for each product on the website.
This is the amount contributed from your pocket for the product and printing.
Some base prices are given in the table below. To the base price, you add a portion of your profit after selling i.e. markup.
Top artists at Fine Art America earn around $10,000 a month! It is your time to shine and earn thousands of bucks every month.
How to make money on Fine Art America
What artists often fail to absorb is that Fine Art America will not sell your art for you.
It will not formulate a selling strategy for you or bring in traffic. It is a mere place to showcase your work, process orders, and handle customers.
To make money through Fine Art America, we have aligned some useful tips for you!
For you to surface successfully in this highly competitive age, you need to up your game.
You will be competing against experts on Fine Art America so your art needs to suffice.
Give your art time, perfect it and make sure you serve the highest quality.
Invest your time visiting museums, galleries, décor stores and observe what buyers crave and look for in a piece of work.
Check out art fairs and look at the quality of work on display.
Take notes of the most famous artists and what they bring to the table.
Create eye-catching work and if you are a photographer, offer your sellers something beyond a snapshot that any regular person with a phone can manage.
Make sure your online store is compelling enough for people to want to look twice.
Include variety and include enough of it.
No customer should come out feeling the store lacked inventory.
A minimum of 25 pieces should be displayed and that too from your best art.
Increase your chances of selling and in turn make more money!
How do you get paid on Fine Art America
Fine Art America pays you via Paypal.
Sellers residing in the US can opt to be paid via a cheque instead.
On the 15th of every month, you can expect to be paid for all orders placed before the 15th of the previous month.
If you are wondering why the 15th from the previous month and not this one, it is because of their 30-day return policy.
All transactions and record-keeping is done through email with you after a buyer contacts you on Fine Art America.
How to get noticed on Fine Art America
With a plethora of artists competing for attention, gaining the spotlight is a little demanding, to say the least.
A couple of tricks to get you noticed on Fine Art America can go a long way in helping you make money.
The primary way of doing that is getting yourself in the medium by making a body of work.
Create a phenomenal piece of art every month that stands distinct from the rest of your work and showcase your work in museums and galleries.
Give your pieces a unique name, a catchy tagline that sticks in the minds of the people.
Another hot tip would be showing your presence everywhere.
The best way to do that as an artist is to create a website and write what your art represents.
This way your work will get noticed faster on a website that is a click away!
Blogging is a phenomenal way to get noticed in the market.
The writing on your free blogs will get linked by other writers.
By writing reviews on other works of art, on your favorite artists, or even on your own work can bring traffic towards your work on Fine Art America.
How to get followers on Fine Art America
Everybody knows about Instagram but a lot of us are deprived of Twitpic, a Twitter-like application.
Create your account on Twitpic, Instagram, Snapchat, Facebook, and literally any social platform.
Use your networking skills to project your artwork and make sure it is seen by your followers.
Follow your followers back and engage with their art too.
Following your customers is the key.
Get acquainted with their likes and appetite for art and make a connection.
By engaging your followers, you can increase your followers tenfold.
How much commission does Fine Art America take
Fine Art America does not work based on commission unlike other digital selling platforms such as Cafepress. Prices are controlled completely by you and you alone. How amazing is that?
Fine Art America charges you only when you upgrade your standard (free) account to a premium that costs $30 per year. That sounds way too affordable to be true, doesn't it?
Pros and Cons of Fine Art America
| | |
| --- | --- |
| Pros | Cons |
| No starting fee. With a little time and a few worthwhile are, you can start making money. | FAA owns the customers and has complete access to their information. You are in the dark about where the customers belong or how they reached your store. |
| Supreme quality Print-On-Demand | The website gets to decide whose work deserves to be displayed on top in the searches so clients find them easily. |
| You can set your own prices which means setting your own profits. | Standard (free) account only allows 25 listings |
| A trusted and highest-ranking community for artists | Highly saturated with other artists |
| Handles everything from printing to packing to shipping to dealing with returns | Underdeveloped statistical structure |
| Worldwide network not only limited to the US with fulfillment centers all across the globe | |
| A whole range of products from prints to pillow covers | |
Bottom Line
What marks the end of this article is that you can in fact earn a living at Fine Art America.
You just need to go out of your way and strategize.
You need to focus on selling more and climbing up the ranks but to do that, take baby steps and plan your every move.
Do not forget the tips we just gave you.
Success awaits you!