Are you a mixed media artist and want to know if mixed media art sells?
The great news is that it can!
To learn how to sell your mixed media art, increase the value of your art, and ways to know how to price it, all you have to do is keep reading!
Other related topics to help you with your art business: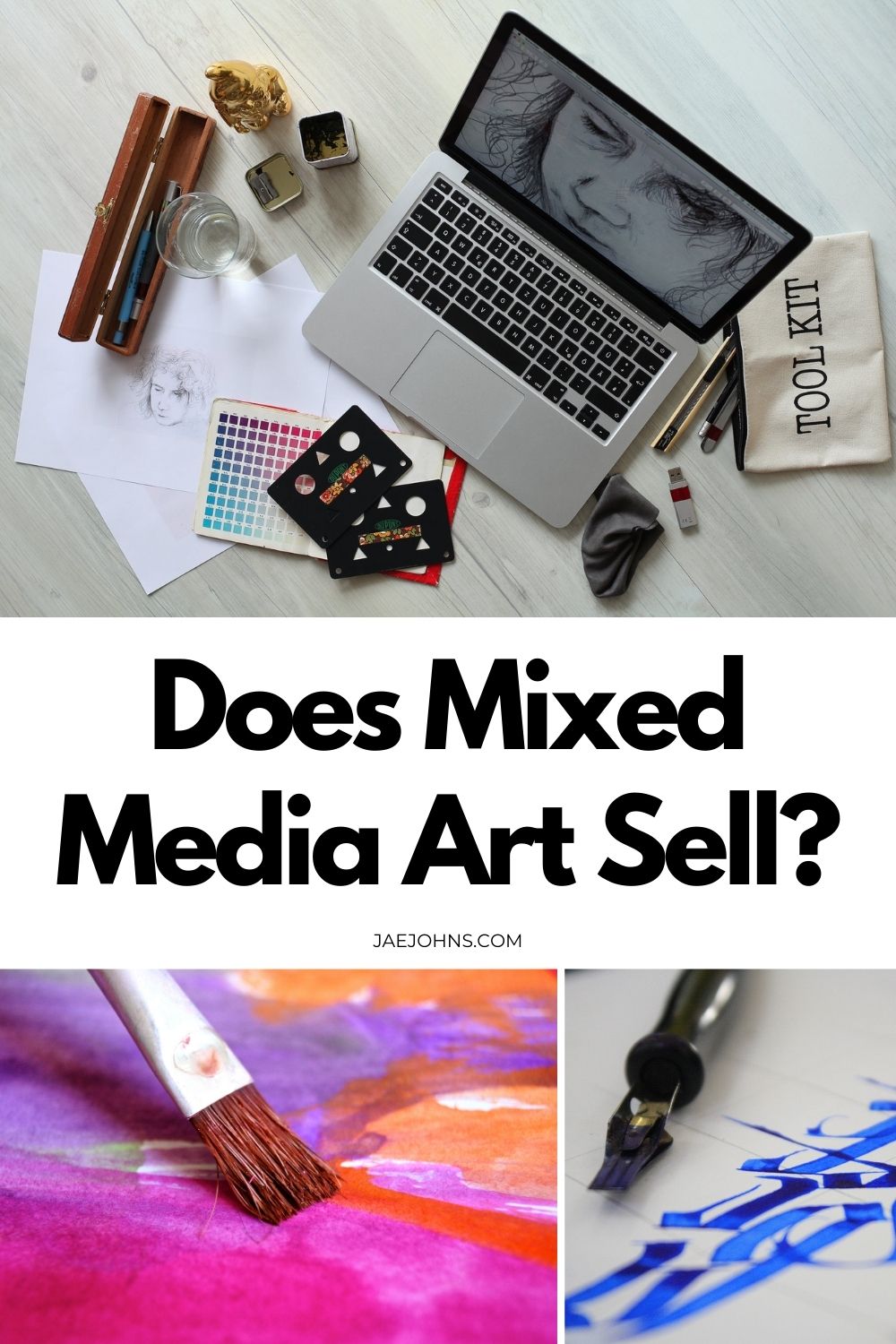 What is considered mixed media art?
Mixed media is fun because it leads to phenomenal artworks unexpectedly. The artists choose from the media like acrylics, watercolor, watercolor pencils, colored pencils, and ink.
Mixed media works can be fascinating, and often a work that is labeled under the category of mixed media will, by its very nature, be highly innovative in its mixture of different forms and textures.
Many mixed media artists get intrigued by the tactile elements used in art and its two or three-dimensional presentations. Many artists trust their technical training when it comes to the mixing of materials. However, they don't hesitate to explore new techniques and combinations of styles when working with Mixed Media making this art consistently a pioneering and continuously evolving state of the art.
Being a continuously evolving form, mixed media art ideas permit expression and often emphasize process as much as the product.
The most popular forms of Mixed Media Art techniques include collage, sculpture, altered books, scrapbooks, and greeting cards.
Collage
As the name suggests, collage uses different materials like ribbons, newspaper clippings, photographs, etc., to create something new. It had become a fundamental part of modern art due to the efforts of Braque and Picasso.
Assemblage
Assemblage is 3-dimensional, which assembles disparate elements, often everyday objects.
Found object art
A found object is a natural or human-made object, or maybe a fragment of an object.
Wet and Dry Media
Wet media (paints and inks) and Dry materials (pencils, charcoal, and crayons) are made to work in conjunction to make this kind of mixed media artwork.
Altered books
A book to be used as the base, like a collage or painted on, pages were torn out or paper sculptures created.
How to sell mixed media art?
Before we head to 'how to sell mixed media art,' let's establish 'What can you do to help increase the value of your art?' first.
By gaining exposure and entering shows
Using social media to advertise your work
Read art magazines to keep up with the latest trends
Know where the market is heading
Look at books on the business of art
Create branding pieces like business cards and brochures
Most importantly, believe in your art
The artist should spend the same amount of time promoting his work as he does to create it. But the artistic souls think they should have the most time they can find to make.
Where to look for people who want to buy your art
The artists need to know that there is an active market for their art. They just have to approach them with mindful tactics to need awards and sales records. People tend to buy what other people believe.
Communicate properly what your artwork is about
When a buyer is looking intending to buy a mixed media artwork, and it is hard for him to determine what that artwork is composed of, the artist must add to the description all the complications of what that artwork is about.
Know what a buyer would want
Setting the buyer free to choose what artwork to buy will leave him picking the ones that stand out and that they love, which, of course, will be an advantage of the artist.
Reputation matters. The artist must build up their reputation as a type of artist that people will want. In other words, create demand for your work.
The demand for the work to sell is driven by building up the three reputations above. That is the key to the art market.
It's no secret that selling art can be a challenge, and you must take steps to turn your passion into a viable source of income.
Selling Online
The simplest way to accomplish an art business would be by taking some high-quality photos and making yourself a website. Or you can use an e-commerce platform such as Shopify, BigCommerce, or Big Cartel.
Get Exposure
As cliché as it sounds but worth it, start looking into local art galleries, coffee shops, music venues, restaurants, and other businesses that might be interested in displaying your art. If nothing else, having your art out in the world adds legitimacy to your passion, and it gives you exposure.
Art Commissions
If you would prefer to follow your path, offering art commissions is an excellent way to generate income. You don't have to undervalue your services, but charging too much can drive potential clients away.
Look for help
If you're not confident in your ability to value your art, approach people about it, you can talk to an art consultant or agent. You will be surprised to gain such valuable insight by paying for a few hours of their time.
How to price mixed media art?
Setting the price too low will make the artist loses money; setting the price too high will make the artworks stacked up in the studio.
Research
Get to know how much similar artists are charging for their work. Thoroughly researching your market will give you a better idea of how to price your art. Consider other artists' work that is comparable in style, medium, color, size, etc. Also, look at those artists' accomplishments, experience, geographic location, and production rate.
Then search online or visit galleries and open studios and see their art in person. Learn what those artists charge and why – as well as what price sells and what doesn't. This information can be an excellent gauge to help ensure your pricing is in the right ballpark.
Be confident what your price
Have confidence in yourself and your prices. If you don't, buyers will know instantly. State your price firmly and let the buyer respond, ignoring those nagging inner thoughts about lowering it. When you take the time to properly and realistically price your work, you can stand behind the price. If the buyer wants to go below that, you'll be ready to justify your price. Confidence does wonders and will help you come home with the money you deserve.
Size-Based Pricing
For beginners, to prove that you are clear and consistent is by using size-based pricing either by the square inch (h x w) or by the linear inch (h + w). Size-based pricing makes the process easy for potential clients to understand, and it prevents you from charging more for pieces you're particularly fond of, which makes your pricing seem random and confusing.
For much larger pieces, you might want to lower the price per square so that you don't price your work beyond what your reputation can sustain. For smaller works, you can increase the dollar per square inch because small works take almost as much effort as larger works, and you would want to be compensated for your expertise, even when the work is miniature.
Conclusion
As a mixed media artist, it can be challenging to sell your work and knowing how to price your art.
By using the process outlined above, you'll know what you have to do to get more sales.
Pricing your mixed media art also won't be a struggle because you now know some easy tips on how you effectively price your art!