Finding online acrylic painting classes can be challenging but worry no more. I have listed the courses that could help you organize your art supplies in the best possible ways, even if you are a beginner.
So, do not wait any more, and let's follow some tips and tools to improve your painting skills!
Are you looking for the Best Online Acrylic Painting Classes? Follow this guide to get all the information and instructions regarding them – read more.
Please read: We can only do this with support from our readers. When you purchase an item through the links on this site, we may earn a commission at no additional cost to you. Thank you! Read our disclosure for more information.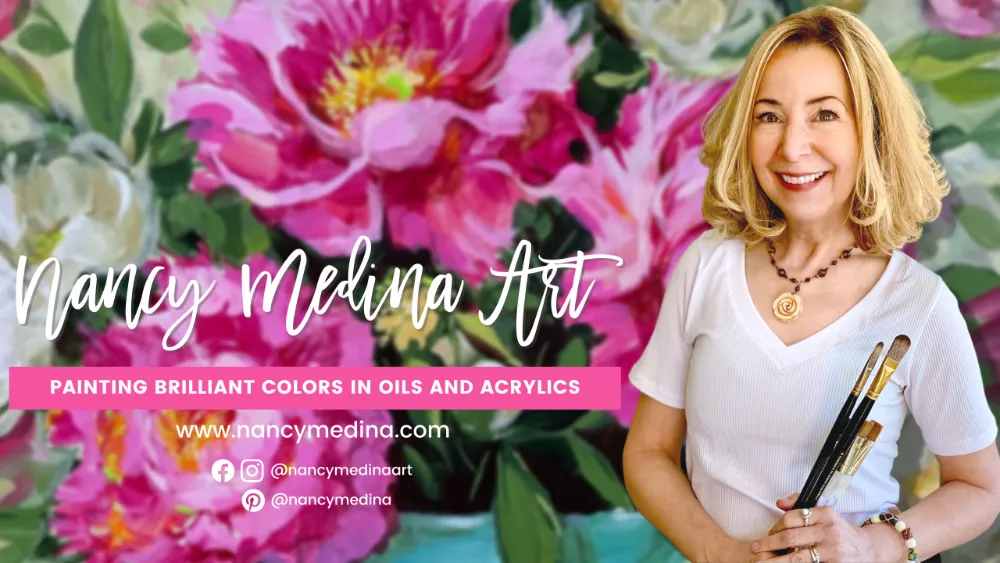 Want to make stunning acrylic art?
Paint bold, vibrant pieces you'll be proud of right from home—without years of group lessons or learning to draw first. Enroll with Nancy Medina Art to have fun learning to paint vibrant florals and landscapes with a caring mentor.
The courses are based on years of developing and teaching a method that makes doing so not only possible but FUN.
Nancy Medina can help you follow your bliss and evolve in your painting journey. Her techniques will help you block in shapes easily with an impressionistic style and show you how to create color mixes that glow.
You'll get a lifetime membership and a well of tools and resources with Nancy Medina Art
For all levels of painters
Along with full-length paintings, you get bite-sized lessons for beginners, templates, and palette maps. Get step-by-step help on setting up and using all your tools.
24/7 access to your lessons
Jump into your online lessons any time, any place, and on your own schedule. Need to take a break? No problem. They'll always be here when you're ready.
30-day guarantee
Upon enrollment, you'll be able to try the entire method for 30 days and see if it's right for you. If it's not, you can return it and get a 100% refund.
Individual feedback
Have a question specifically about your painting lessons or a particular color mix that has you stumped? They can help! They have dedicated staff ready and waiting.
Technical support
They have a dedicated team ready to help you with any questions you may have while using the online method.
Palette Conversion for Oils
The class includes conversions and a palette map in both acrylics and oils. Keep in mind, however, that all the lessons are taught in acrylics.
Secret Sauce Medium Recipe
Nancy will also give you her original secret weapon recipe to help your acrylics stay wet longer, blend better, and glide beautifully on canvas—you will never want to paint without this again!

If you are looking for free online acrylic painting classes, I suggest you check out online art lessons by Nolan Clark.
I have seen many art students follow Nolan Clark and have been active participants in his forum.
Clark has expanded that forum into an outstanding mew members-only website full of free tutorials and teaching aids.
Does Nolan Clark Offer Free Online Acrylic Painting Classes?
Yes, it does. The site will help you find hundreds of free online acrylic painting classes.
Most lessons contain a text tutorial and a narrated time-lapse video for you to follow.
They also add new free tutorials every week.
You will find over 100 free online painting classes you can follow.
How Can You Become A Patron Member?
If you join the Nolan Clark mailing list, they can also send you the occasional round-up email of many new tutorials added to the site.
If you prefer to paint or draw along, then you can become a Patron member, which will give you access to hundreds of paintings along with art classes and courses.
You have 24/7 access to your free online acrylic painting classes, so you can take a few hours to weeks to complete each artwork.
How Can You Interact With Other Members?
I suggest you rewind and re-watch tutorials as much as you need, every step of the way.
You can chat with fellow students, post your artworks for feedback from the group and get answers to your questions.
They usually sell these classes individually for $9 each, which means this offer is incredible value for money.
Other related topics to help you with acrylic painting:
Conclusion
You can choose from a variety of art forms that best fit you.
Acrylic painting is a good choice if you want to express your thoughts and feelings through art.
People have designed all these websites to provide a comprehensive learning experience. Go ahead and order a canvas, paint, and paintbrush.
You are now ready to create a masterpiece!
I also listed some beginner acrylic painting courses that will set you up with a solid base to become a confident acrylic painter and learn more advanced skills if you are self-taught and want to fill in the gaps for better performance and productivity.