In this day and age, everyone has a website. People use websites for their portfolios, blogs, and their businesses. In some instances, people even run professional websites to refer their employers too.
No matter where you look, you can see ads about website builders and web designers offering services. This is what has so many people considering web design jobs. In a world where everyone needs a website, someone has to build them.
Web design jobs are becoming increasingly more popular because of the rise in need. Since more people than ever are running individual businesses, websites are crucial. A good website can give a person or business credibility and can even help drive sales.
The major difference between all websites is the complexity of the functionality behind them. This is what has web designers in such high demand because they are the people who build that functionality.
Other Web Related Content: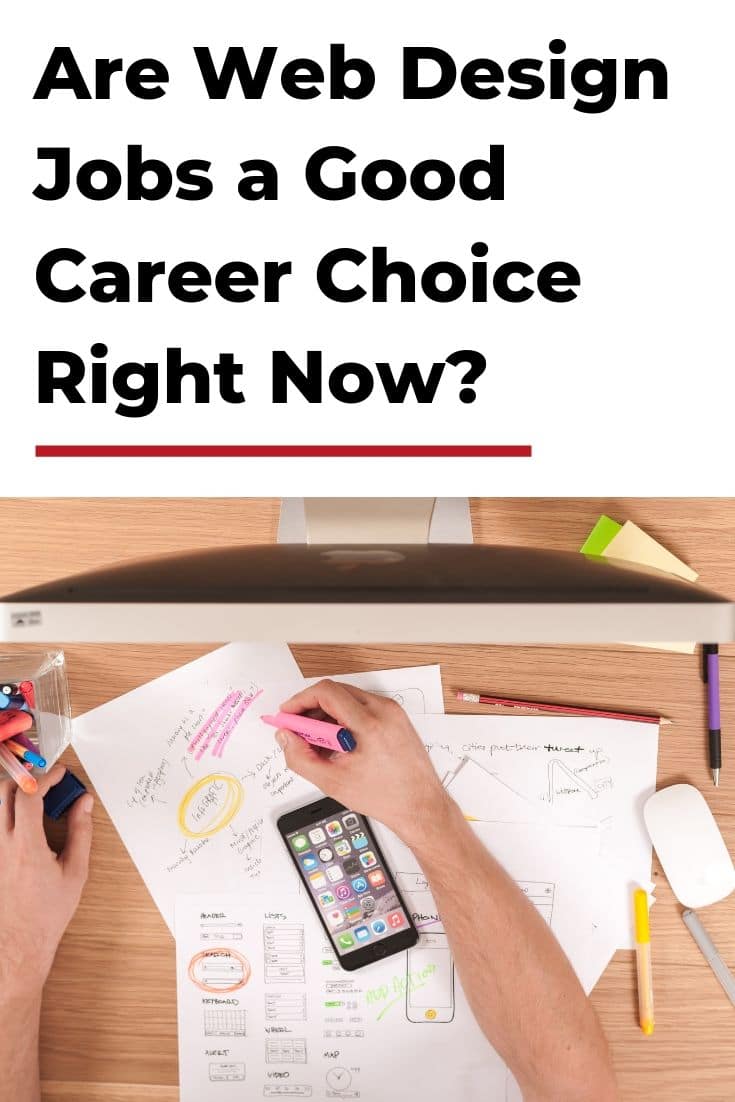 What Is Web Design?
Web design is a field that is expanding to accommodate new focuses with time. Originally, web design meant the process of building a website. In the digital age, however, there are more types of web design roles than ever before.
Work goes into not only getting websites built but also making sure that they serve their purpose. This might mean designing a clean user interface to simplify interactions. It might also mean taking specific steps with the content structure to optimize for search engines. The web has adapted, and web designers have adapted to it.
At its core, web design is focused on creating effective websites that can be used to serve a purpose. This means that the site will need to have appropriate functionality like a store interface or newsletter options. It also means that it needs to be modern and look appropriate for the brand.
Having the nicest website in the world won't get you anywhere if no one can find it. This is why understanding how to navigate the web for your website promotion is just as important.
Depending on your needs, web design can also encompass less complex versions of creating a website. This can include making custom templates for people to apply on popular platforms.
It can also include adding custom features or widgets to a website for added functionality. While there is a large market for fully custom sites, there is a high need for improvements as well.
Web designers are also often responsible for maintenance depending on the client. Many popular companies offer existing support after the website is built for an added fee.
Web designers can be responsible for helping to ensure that things keep working and troubleshooting in some cases. There are many different focuses on web design, which allows you to focus on your preferences.
How Much Do Web Designers Make?
Let us start by saying that web designer jobs look differently depending on how you approach them. You can work for a company on a salary or as an individual business. A popular model that is gaining traction is standalone web development companies.
Rather than finding a business to work for, these companies work for themselves and manage individual projects. In many ways, both options are good depending on your preference.
The average salary for a web designer is around $57,000. This can drastically increase or decrease depending on what company you work for and your experience. A part-time web designer straight out of college might make more towards $35,000.
On the other hand, an experienced web designer can make six figures depending on expertise. These salaries are what you would likely expect working in a corporate environment but can vary drastically.
In a more independent work environment, salary can change to be better or worse. If you can amass plenty of clients and work quickly, you can pull the higher end of the expected range. Finding clients is crucial to remaining successful in this sense.
For a team, you might charge a flat rate for a client and then divvy up the amount per person. It's a matter of knowing what you are looking for and which model fits your style. It's almost important to remember that websites have different needs and costs, which can impact your salary.
Who Is Hiring Web Designers?
In a broad sense, everyone is hiring web designers. Web designer jobs are flourishing right now because there is such a high need for websites. As a web designer, you can work for companies, teams, or yourself. It's a matter of determining what your best work style is and what will accommodate your schedule.
Everyone has web needs, big or small, which makes it easy to find people who have the need. Your job will be appealing to them.
Companies often hire web designers for several reasons. For some companies, it might be about building a website or rebuilding a current website. These sites might be used for the company or promotional purposes. They often include a variety of features including landing pages, stores, and security elements.
Depending on the type of website and who owns it, these projects can be incredibly demanding. Companies hire web designers to manage new projects and maintain existing websites as well.
Beyond companies looking for technical help, branding teams are on the rise. This is ideal for web design jobs because a huge component of modern branding is web design. These companies often work with clients of various sizes to help create custom branding packages.
As a web designer, you will work alongside other technical creatives to provide a comprehensive package to businesses. Your role will still be web design, but your focus is fitting into a bigger picture.
Individuals and smaller companies are also always hiring for web designers. These people are looking to pay a flat or hourly rate for you to meet their needs. In many instances, you will be acting as the expert to guide them towards their needs.
These web designer jobs are perfect for people who need to make their hours. It allows you to manage your own scheduling needs around the clients. Always consider the potential need for insurance options when you work for yourself.
How Is the Web Designer Market?
The market for web designer jobs is flourishing, which is both good and bad. There is a high need for web design elements, which means that plenty of people are looking to fill these roles. However, there are considerations to make with a job market like this.
Though the work is certainly there, you will want to remember that you are not the only one looking for a job. The kind of job that you want can drastically impact how you approach landing one. The competition in this industry can be fierce.
In a corporate sense, there are plenty of web designer jobs available. These jobs will likely come with set hours and benefits, making them highly appealing. On the one hand, it is great that they have so many jobs available. On the other hand, these jobs are also highly competitive.
The majority of web designers entering the market are looking for these jobs, which means you need to stand out. Proving your worth in a competitive market can be exhausting and a little intimidating.
Working for a branding company is a great way to get into web design without working for one specific client. This allows you to broaden your skills and continuously challenge yourself. Since you will be constantly trying new designs, you can focus on honing your skills.
Applying for these companies can be slightly less competitive than corporate gigs, but they are still actively pursued. In many cases, these companies will work with people they know or find individuals on existing freelance platforms.
The market for individual design is growing as more people turn to the gig economy. You can offer web design work on all major freelance sites, which gives you plenty of control. This is an effective way to reach clients in a safe environment and showcase your talents.
In many instances, branding companies will look for people successful on these platforms to add to their team. Making an individual purchase is effective for sampling work before committing to it. There are plenty of clients on these platforms, so refine your marketing skills and commit to getting good reviews.
At the end of the day, there are plenty of people looking for web designers for several reasons. Depending on how you want to work or what you prefer to work on, any of these approaches can help. The high demand for web designer jobs is present. Everyone is hiring, so it is a matter of presenting yourself where they are looking!
Is Web Design A Good Career for Me?
While web design might be a good career, it is still dependent on you as a person. If you have the technical skills and passion to be a good web designer, then it might be a good approach for you. However, if you are thinking about going into it just to make money, steer clear.
Web design jobs can be a lucrative career option that will help you move forward as a professional. The fact of the matter is that if you aren't passionate about it, it will burn you out.
Web designers in today's world know that there is more to good design than aesthetic or functionality. True web design is evolving to require several different kinds of skills. For people who love to learn and grow, managing these different skills might be easy.
For people who only want to stick with one thing, there might be less work for you. As people continue to advance in this field, the top tier will be composed of people who have multiple skill sets. While you don't need to be a one-person web team, knowing how the different components come together is crucial. If you can manage adapting and growing, web design should work for you.
To make it in web design, you will want to be comfortable with the ebbs and flows of the market. In some cases, you might only be needed for six months to get a site off the ground.
For other companies, you might be kept on to run maintenance for several sites. The amount of time that you will be needed can vary greatly in this field. You will need to be comfortable with the idea that you might not work for the same company for that long.
The nature of technology fields is that there is a constant need for change. As technology adapts and trends change, you need to rise to the occasion to meet them. If you are comfortable chasing the market, managing marketing, and learning, try this. Web designers jobs can be great if you are passionate, and the pay can be amazing over time.
Conclusion
If you're considering becoming a web designer, try thinking about what you need out of a career. When your biggest goal is stability, you might not want to enter a field like this. Assuming you like to rise to a challenge, it could be a great and engaging field for you.
For the time being, web design jobs are absolutely a great career choice for some people. It comes down to knowing your needs and capabilities as a person. The market is there, so try to determine your place in it.
What's getting in the way of your web design career?