For many artists, a portfolio is what they rely on to get them hired.
If you are an artist looking for a way to make your portfolio shine, there are many free portfolio websites to choose from.
Though you might still need to carry in your binder to a job interview, websites are the way of the future.
Fortunately, there are a variety of free portfolio websites to help you showcase your work.
These sites are made to help you present your abilities in the best possible light.
Choosing a good portfolio site is a matter of personal preference.
If you're looking for a way to easily showcase your work, any of these options will do.
However, there is more to consider when it comes down to displays.
Each of these sites has a different manner of presenting your work.
This means that you should choose one that works well with your art.
Every site comes with different design elements, so it can be helpful to try a few different ones out.
DISCLOSURE: This post contains affiliate links, meaning I may get a commission if you decide to make a purchase through my links, at no cost to you. I only recommend products that I've used or really like. Please read my disclosure for more info.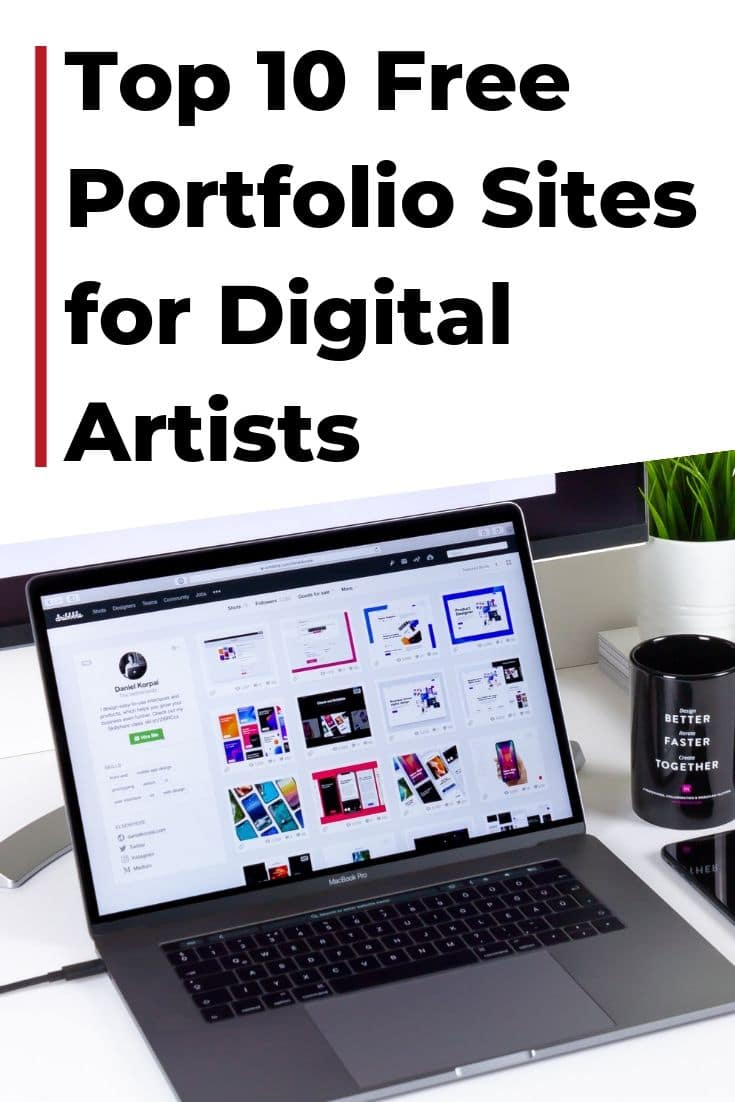 If you are a digital artist or photographer, Adobe Portfolio is perfect for you.
As long as you have a creative cloud account, this great site is ready to help you.
Since you are likely already working within Adobe products, exporting to this portfolio is easy.
Even if you don't use them, you can enjoy an easy upload process to get your work out there.
The site is easy to use and makes great portfolios in no time.
You will appreciate how easily you can get your page ready to share.
As far as free portfolio sites go, Adobe Portfolio is a great option for making an appealing page.
You can easily link people back to your beautifully customize portfolio.
Adobe offers various design elements based on your personal preferences.
You can choose how the images are displayed and what additional content you would like to add.
Since Adobe is the gold standard for creative tools, it's not surprising that they want to help you show off what you made.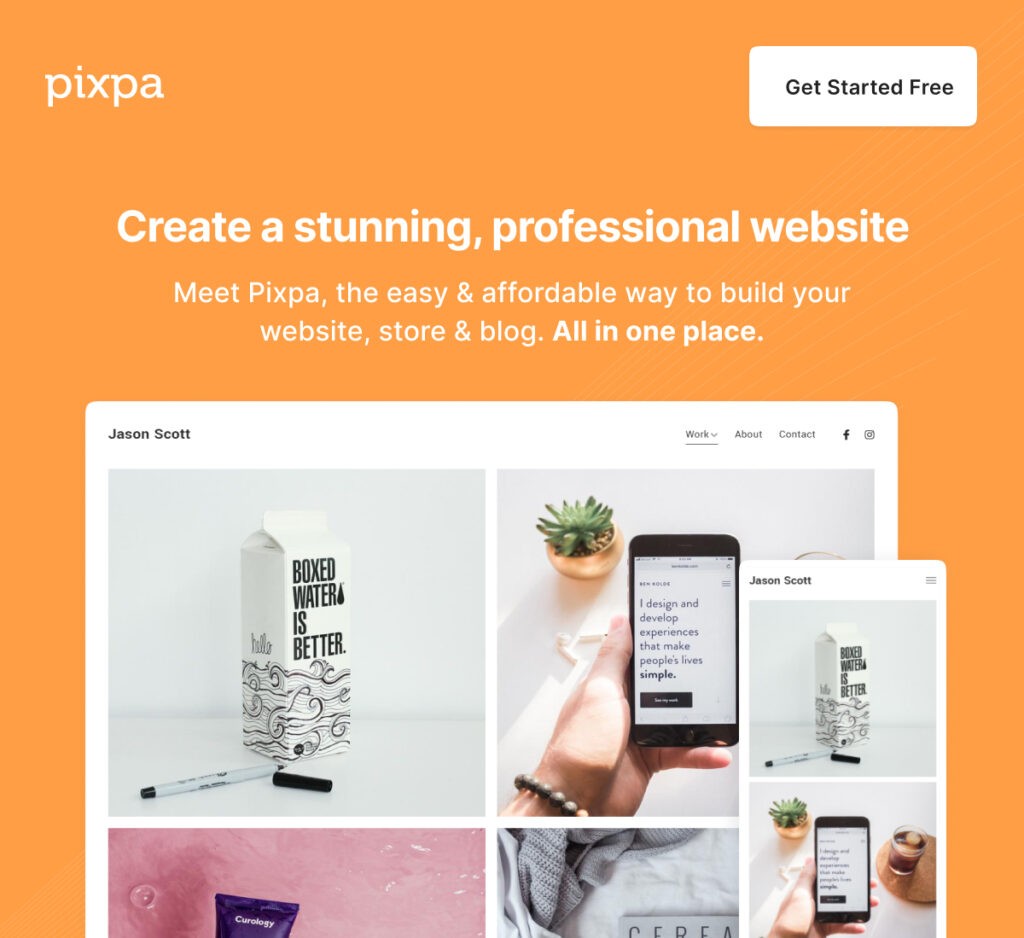 Pixpa is a digital portfolio made to be simple and easy to use while giving you powerful editing abilities.
In addition to showcasing your creative work, this diy website builder allows you to sell your products online.
While Pixpa is only free for a limited time, it has unique features that you will enjoy.
It features:
A DIY website builder.
Beautiful, professional, customizable themes.
Cost-effective pricing plan with unlimited images, hosting, and bandwidth.
All Pixpa websites are responsive and work on all devices
Search-engine optimized and social media-enabled websites.
Integrated proofing, blogging, and e-commerce.

If you're looking for a customizable portfolio site, SquareSpace might just be right for you.
This website builder, which prides itself on beautiful design, has plenty to offer you.
When it comes to free portfolio websites, they straddle the line in some regards.
You can easily create and design your website for free, but there are costs to maintain it.
When you see what you can build on the site, you probably won't mind all that much.
SquareSpace makes it easy to upload and manage content so your page always looks perfect.
Their strong focus on design is a perfect match for portfolios.
It helps to present your art when the page is a work of art itself.
These smooth finishes and modern designs help to showcase your work in the best possible light.
This interface makes it easy for you to build the page of your dreams without requiring any kind of coding experience.
People will be impressed when you link them back to a portfolio through SquareSpace.

In a similar vein, WordPress is a website builder that offers great options for portfolios.
WordPress aims to be easy to use, and it is completely free.
The primary contingency here is that you will have a slightly altered URL if you do not pay for your domain.
Regardless, you will be proud to link people back to your portfolio site.
WordPress is a great option because they offer many stunning portfolio themes.
These themes make it easy to showcase your artwork or photography regardless of style.
All you have to do is find the right one for you and start uploading.
It is easy to manage and control your content on WordPress.
They even allow you to preview your site before you go through with any uploads or changes.
This is ideal for making sure that your site always looks perfect.
As a bonus, WordPress has a tremendous community. Using tags and other tools, you can easily connect with a wide audience.
This will likely be composed of other creatives and people looking for what you are posting.
It is a great way to reach out and connect with other people so your portfolio gets noticed.
You will find this useful for churning up more business as you continue to post!

Behance is a website that is designed for showcasing creative work and is not so secretly run by Adobe.
They have a wide variety of contributors and offer a wider artistic community.
The entire focus of this website is for people to post their portfolios so they can be seen.
This edgy and artistic platform can be great depending on your needs.
For most people, it is an excellent place to start.
You can even use it to get a broader understanding of other people in your field.
To use Behance, all you need to do is make a profile and start uploading.
They make it easy for you to post individual photos and collections to share with your audience.
This site is very social media focused, which makes it a unique opportunity.
You can enjoy posting about yourself, creating mood boards, and more.
It's an excellent way to meet your community and find a broader audience.

In the modern world, the ultimate artist portfolio appears to be Instagram.
You can use Instagram if you're a photographer, artist, or any kind of creative.
This is an easy and familiar way to showcase your talents.
While it might seem unprofessional to use social media, Instagram comes with some serious perks.
If your goal is to sell an employer on your ability, a lengthy follower list will do the trick.
Instagram is great for proving that you already have an audience.
As Instagram continues to add new functionality, we are seeing more opportunities for great showcasing.
You can use Instagram and other tools to create visually appealing profiles in no time.
Many popular photographers use Instagram frames and design styles to further showcase their work.
With time, we are seeing people drifting towards specific formatting with amazing results.
Common approaches to making an Instagram look professional is consistency and color control.
You want your images to look good together and accommodate one another.
People organize photos by color, event, and more.
You can even do custom designs like including text posts to break up photosets.
Many people are using this tool to create stunning portfolios that can be shown to employers.
It's also a great place to reach customers directly.

Dribbble makes it easy for artists to showcase all of their talents in a sleek and modern environment.
This is a great free option that is not only easy to use but has amazing results.
You can quickly upload any of your work in a variety of ways and add it to your profile.
The website will show your work off in a clean and beautiful format that is sure to impress.
Dribbble offers neat and professional-looking profiles that will organize your art well and show off your talent.
Another major selling point for Dribbble is its unique social environment.
They do an excellent job of promoting content and encouraging interactions.
This can be used to help you reach a wider audience in no time at all.
You can enjoy sharing your work with their growing community and can see how people are reacting to your work in real-time.

Weebly is another popular website builder that makes it easy for people to build a basic website.
Using templates and customizable elements, you can make your very own portfolio.
In the world of free portfolio websites, Weebly is another one that comes with a caveat.
In the same vein of WordPress, you have to have a Weebly specific URL unless you pay extra.
Outside of that, it is a completely free process with great results.
You will find that they hold their own against some of their more popular competitors.
When you build a site with Weebly, you can expect an easy to use interface and great results.
This is perfect for someone who wants a portfolio that also acts as a full website.
You can easily add pages for information about you or pricing.
This can be ideal if you're referring people back to it from another location like social media.
People who visit your site will find it to be polished and appealing, so it should showcase your work perfectly.
The design tools are easy to use, and you will appreciate the results.

This website builder is unique because it was made specifically with portfolios in mind.
When you enter this site, you will be immediately prompted to create your free site.
If you scroll down, you will see various options regarding how you can make your portfolio look and they are impressive.
PortfolioBox prides itself on offering portfolio options for a variety of different professionals, artistic and otherwise.
They make it easy for you to get your portfolio up in no time at all with great results.

Most creative professionals would likely not think of Tumblr as a primary option, but there are some selling points.
Tumblr is a completely free site that is surprisingly customizable if you know what you are doing.
You'll notice that when professional companies use Tumblr, their pages are a step above the average user.
This means that you can leverage it in the same capacity.
Posting with this site is easy, which makes upload your portfolio painless.
A primary selling point for Tumblr is how easy it is to post.
You can post from anywhere, and you have the option to post individual photos or photosets.
Depending on how you style your profile, this can make for a great visual appearance that is unique to your work.
The biggest win with Tumblr is the Tumblr community.
Tumblr is a website thrives on visual arts, which means your work will be in great company.
You can easily bond with other creatives and use tags to share your work with the world.
Tumblr is known for curator sites which will reblog your photos and help them to reach a much wider audience.

In case you weren't thrilled with any of the other website builders, Wix has your back.
This platform is known for helping users to effortlessly design beautiful websites.
As far as free portfolio websites go, Wix is completely free and a great product.
You can make a stunning website that will carefully showcase your best work.
It is all customizable, which makes it great for artists who need an added degree of control.
Read Also:
Conclusion
For any creative, being able to showcase your work is essential.
Free portfolio websites are an excellent way to quickly and easily showcase your work.
This can be great for sending to potential employers or for bringing in more business.
Having a concentrated place to demonstrate how you work and what your work entails is necessary.
If you're planning on making it in the art world, you will want to be able to show off your work.
A common mistake people make when it comes to portfolios is thinking that these sites are only for certain kinds of art.
Even if you draw by hand or paint, uploading to these sites is a great step for you.
You will find that it is nice to be able to see your artwork in one singular place.
As time passes, watching your collection grow can make you proud, and you should be!
What is your favorite site to use as your portfolio?