Gone are the days when graphic designers would need pen and paper to create art. Knowing what is the best software for drawing tablets can be a challenge.
Technology has transformed the world in such a way that you seldom need anything more than a digital device to create the most exquisite of artworks.
A drawing tablet is a one-of-a-kind innovation with features ranging from customization to creativity using the graphics, brushes, and color palettes they have to offer. These tablets are reliable, easy-to-use, and guarantee the storage of hundreds of thousands of your artworks.
The essential part of using a drawing tablet is figuring out which software is the most suitable for your device. In this article, I will discuss which software is best for your requirements and ideal for your drawing tablet.
Other Related Topics to Help You At Drawing: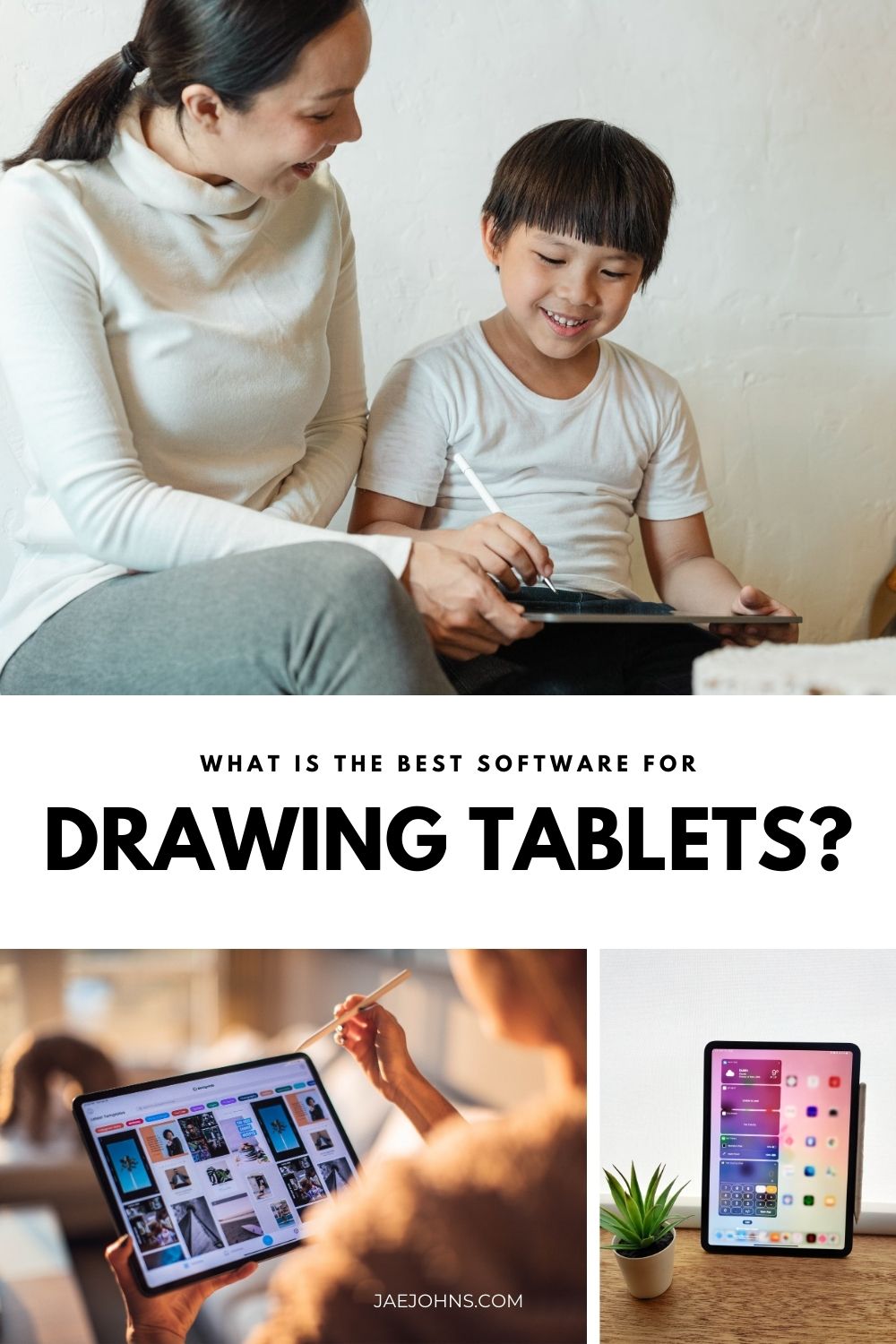 Do Drawing Tablets Come With Software?
While buying a drawing tablet, it is a valid question to ask whether your device has built-in software or is there a need to download one.
The answer is that most drawing tablets do not come with software.
By a rule of thumb, the company you are buying from is only providing you with the hardware and a functioning pen-like stylus.
The manufacturer usually does not offer any software with the tablet.
However, there are some companies such as Wacom that offer software assisting in graphic designing, drawing, painting, and image editing.
Wacom Intuos is a prime example of a drawing tablet that offers three different programming applications.
It is a graphics tablet assisting artists in digital art, animations, and photo editing.
The three programs Wacom has to offer are Corel Painter Essentials 6. Corel AfterShot 3, and Clip Studio PAINT PRO.
It improves their demand and keeps their customers from the hassle of buying additional software.
What is the Best Software that Most People Use?
Adobe Photoshop CC
Adobe Photoshop is undoubtedly the most preferred and most used software among professional photographers, video editors, artists, and designers.
The brush features of Adobe Photoshop lets you draw clear lines and smooth brush strokes.
The smoothing tools allow you to create an image reflecting perfection with edges that you want to keep share and areas of images that you want to smoothen.
You can change the settings of the artwork by increasing and decreasing the exposure, depth, tint, contrast, shadows, and gradients.
What is the Best Free Software for a Drawing Tablet?
Not everyone can afford or want to invest in expensive software to create art.
But worry no more! I will help you pick out the ideal free software for your drawing tablet so that nothing stands in the way of your passion.
Krita
Krita is software for professional artists made by similar passionate artists in order to make art accessible to everyone. It is suitable for devices using Windows, Mac, and Linux.
For a digital illustrator, this is the ideal software to experiment with art tools such as an extensive palette, layering, filters, and animations.
Krita is amazing for artists who are more into manga and comics.
The customization features of the app are unparalleled, ranging from brushes to pens. Krita is recommended to all artists whether amateur or professional.
Sketchbook
SketchBook offers you a premium experience with professional tools for engineers, architects, designers, and illustrators.
With over 190 customizable brushes, SketchBook is ideal for users who prefer precision and accuracy in their artworks.
The software utilizes fabrication technology and 3D designing to bring creations to life.
It has perspective guides to assist designers, uses predictive strokes, layering techniques, and symmetrical dimensions to deliver an all-rounder drawing experience.
Artweaver Free
The feature that makes Artweaver Free stand out in the plethora of software is its ability to bring artworks to life.
This software creates the most realistic drawings by using its ultra-realistic brush effects.
It enables you to use an extensive set of pens to make complex images with intricate details.
What is the Best Software for Webtoon Artists?
Clip Studio Paint
The commonly used and widely accepted software for webtoon artists is Clip Studio Paint which is compatible with Windows, Android, and IOS.
The software specializes in creating animations, comics, and illustrations.
Clip Studio comes with webtoon canvas settings which pre-set the canvas to multiple smaller versions of your vertical artwork.
The multi-page data export feature of the application allows you to create comics and illustrations and teach them as a course.
Best Software for Wacom Tablet for Teaching
Flipgrid
Microsoft's Flipgrid is hands-down one of the best software to make long-distance learning as interactive as possible.
The software features a wide variety of teaching tools to create a classroom environment with in-person discussion.
The best thing about Flipgrid is that it is free for all and does not require a subscription plan.
It collaborates with Google Classroom where teachers upload pre-recorded lectures and a segment of questions at the end. In turn, students have to do the same to submit their responses.
Flipgrid allows teachers the liberty to hold group discussions by creating "grids".
Each grid is essentially a message posted by the teacher to ask a question from the audience naming the topics.
What is the Best Drawing Software to Use on Lenovo Yoga Book?
ArtRage
ArtRage 6 is the latest version of ArtRage that is a software used by artists to create realistic artworks featuring complex shapes, designs, and images.
The reason it is gaining popularity is due to its ability to use traditional mediums digitally such as oil paints, acrylics, and watercolors.
The interface of the software is easy to use and the tools are customizable.
We can use the brushes to change paint depth, the complementary colors can serve as an inspiration, and use Photoshop's brush heads for painting.
Conclusion
In a nutshell, the extensive software and applications for artworks show that you can never find an excuse to not pursue your passion.
There are numerous app developers that offer free editing and designing software to make the tools accessible for everyone. All you have to do is find the ideal software for your drawing tablet!