For people who are just beginning to explore Photoshop, it can be difficult to know where to start. Photoshop effects are a powerful tool that is known for yielding amazing results. There can be quite a learning curve with this software, so it's generally helpful to find an easy place to start.
There are plenty of amazing Photoshop effects for beginners to embrace. This can be an effective way to start learning the system. Before long, you'll be ready for Photoshop with the pros!
Understanding easier Photoshop effects help you to learn how to use the system. Even though these are for beginners, they are still great effects. These simple effects can be effectively used by anyone looking to spice up their photos.
In no time at all, you can take a regular image and make it pop. This is great whether you want to do it professionally or just to boost your social media. These fun Photoshop effects are perfect for getting the most out of your everyday photos!
If you're interested in this Photoshop article, check out the other Photoshop content: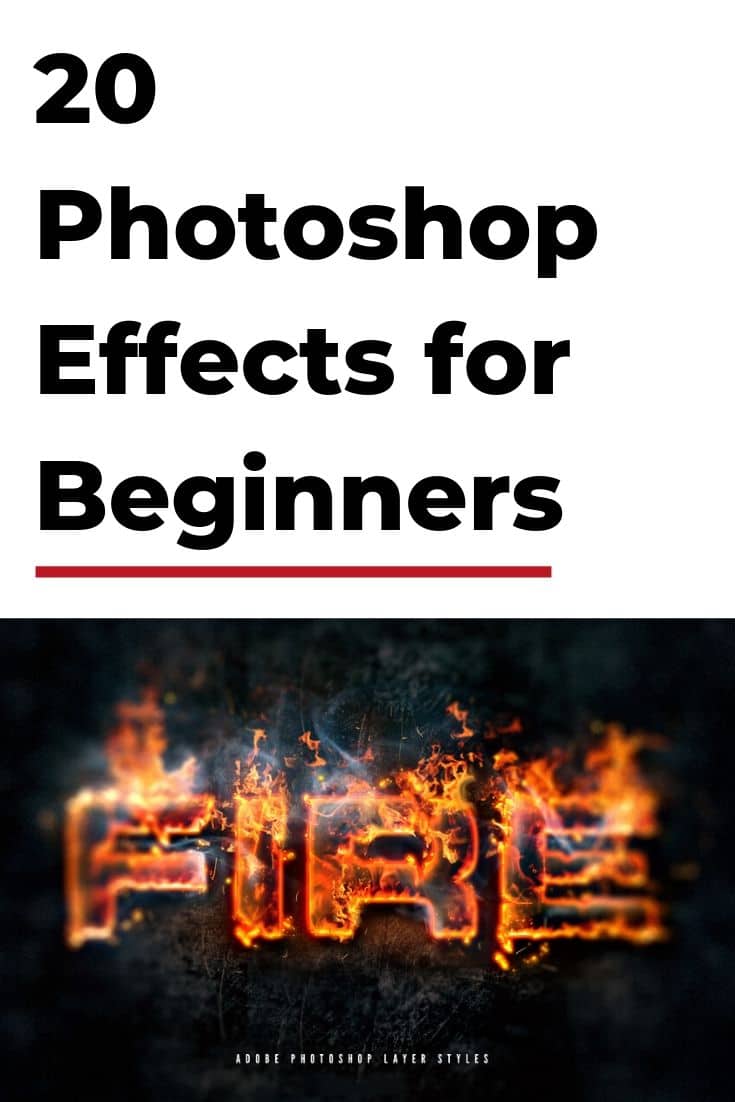 — An easy and exciting effect to use is the creation of a clipping mask. This allows you to take one image and put it within a designated area in another image. The result is a space that is now filled with a picture instead of the original design. You can use this to create exciting font options or just make a picture pop.
— Another great effect is to retouch your images. Photoshop makes it easy for you to remove or add just about anything to a photo. With a little practice, you'll be able to make any picture look like the perfect shot. This is great for making minor adjustments to photos to increase their quality. You'll find yourself tweaking every photo to perfection!
— You might find that your photo does not quite live up to the vibrant scene you remember. Photoshop makes it easy to breathe life into your photos by adjusting the color intensity. You can use these easy methods to bring balance to your images and do them justice. If something is too vibrant or not bright enough, you can easily fix the problem with this Photoshop effect.
— The ability to take a part of the image and heal it makes it easy for you to improve quality. If you have a great photo that has some sort of blemish, you'll love this feature. It allows you to easily take the problem area of your image and fix it up. You can use this Photoshop effect for bringing the final touches to a great photo.
— This is a seriously cool effect that can breathe new life into a photo. Using this technique, you can put light on a dark photo to show people the hidden details beneath it. You will be amazed by what a little light can unveil. For most people, this is a surprising technique with truly fascinating results.
— You can easily make your photos fun or entertaining by adding graphics. This easy Photoshop effect allows you to make your images more modern. You can easily add a variety of graphic options that will help you make your pictures a little more fun.
This is great for projects or for just making the next great meme. Don't miss out on bringing a little something extra to your pictures.
— The results of this Photoshop effect are always fun. It allows you to take elements from one image and provide them with a new background. You can take a photo of your friend and put them on the moon or place yourself inside a cartoon.
The possibilities are completely endless with this fun option. If you can learn to do it well, it allows you to make beautiful professional images.
— This fun effect is a great way to add mystery to any image. You can quickly and easily bring a smoke effect to your image. You control the smoke and you can place it anywhere. Using this approach, you can make some truly amazing images.
It is particularly helpful around Halloween. Adding smoke to an image is a great way to dress it up and make it a little more special!
— For this effect, you'll want to exercise your creativity. The results are a ton of fun and can be used in various ways. Do not hold back when you use this effect. Part of the charm is just how silly it is.
You can focus on turning any image into an exciting movie poster in no time. This is great for professional work and laughs with friends. The final product always looks surprisingly professional, which is part of the charm.
— Using this approach can make your images look that much more amazing. Stretch effects are great for bringing a little something extra to your images. You can use them to make exciting dynamic images.
You can also use it to make a more interesting connection between a person and their background. However, you use it, this exciting effect is great for dressing up a boring picture.
— Whether it's your cousin twice removed or an awful ex, this can come in handy. Using this effect, you can remove someone from your photo without compromising it. If someone photobombs you or just is in the way, you can get rid of them and be left with the perfect image.
Don't be afraid to experiment with this one a little bit. It's a great way to declutter photos and make images shine.
— This exciting effect is perfect for modern images. If you've ever wondered what you'd look like on a magazine, start here. This fun style can take any image and bring it to life. Using the duotone effects, you can make exciting images that look like they are from the future.
This approach is becoming increasingly popular in modern photography. The results can be truly fantastic.
— Neon effects are becoming more popular with time. This cool Photoshop effect allows you to add neon elements to your images. The results can be very cool and always look futuristic in nature.
It's a quick way to take a simple image and bring it straight to the future with a few short steps. Don't be afraid to have a little fun with this one. There are a lot of good ways to use it. You can see images like this being used a lot in modern media, so see what you can do with it.
— This is an awesome skill to have if you want to start customizing your social media stories. Adding text to photos is an exciting way to spice up an image. You might want to document where you're at or add a favorite quote. Whatever it is, you're totally free to just about anything with it.
Let your creativity run and have a good time. This is ideal for managing your photos or memories. It can be used when journaling or for just sharing your pictures online.

— A good layout is a great way to make exciting images. You can easily combine images together for an exciting magazine-style spread. Whether you're looking for something for work or for pictures at home, use this.
You can enjoy how quick and easy it is to arrange your photos together to make something truly spectacular. This is perfect for arranging family photos or creating handouts for your business.
— You might have thought that filters were only on social media, but that isn't true. Photoshop is ready to help you apply a wide variety of filters to your images. This can be effective for keeping consistency in your photos. It also offers you the chance to use filters that aren't already on sites like Instagram.
These filters can make your images look brighter and bolder than ever. In fact, you can even make your own filters to use if you decide to take that approach.
— This fun feature lets you take any image and regress it in time. You can add a historical hue to your images that make them look that much more exciting. This is great for images for a costume party or even just plain old fun.
You can immediately make your pictures look like they were taken in historical times. It's fun to imagine yourself there when you're done. It really does look like someone teleported you through space and time to another place.
— As far as photoshop effects go, this one is just plain fun. You can take your time making the stars in the sky shine. This is an exciting thing to do with images that you want to make sparkle a little bit more.
Easily adding stars to a night sky can make the image more interesting to look at. Everyone loves stars, and this makes it possible for you to have as many as you want. The results of this can be truly breathtaking
— If you think your image needs a message from the heavens, this is for you. This easy beginner effect allows you to add words to images in the sky. You can easily wind your words around the clouds to make it blend better.
This not only a great business effect for marketing, but a ton of fun to do. You can spend time adding silly messages from up above while you practice.
— This exciting effect allows you to take any image and turn it into dots. Before you hesitate, just know that it is cooler than it sounds. The results are fun and futuristic photos that have a unique look.
You can easily do this with any photo in no time. As you convert your images, you might be amazed by how good some of them look. When done with the right image, this effect is pretty amazing. It looks like you stepped right out of a science fiction movie with a thrilling twist.
Conclusion
Photoshop is an amazing tool filled with endless possibility. There are so many things that you can do with the system that you'll never run out of practice.
Finding good and easy photoshop effects to practice with is the best possible way to build up your skills quickly. Any of these exciting effects can help you learn and make cool things at the same time. Don't hesitate to explore all you can.
When you first begin practicing with these effects, just remember everything takes time. If your final product doesn't look perfect the first time around, try it again. There is no right or wrong way to use the system, just ways that get you closer to your vision.
Feel free to experiment and explore as you practice. The more that you spend getting to know the system, the more you'll be able to do in no time.
What are some of the best Photoshop effects you used in your work?