Adobe Illustrator is one of the favored art and design systems that exists today.
While it is easy to buy into the hype that this system is the only one, it isn't.
In fact, there are plenty of free illustrator systems available that can serve the same purpose. You can get straight to work with these free Adobe Illustrator alternatives!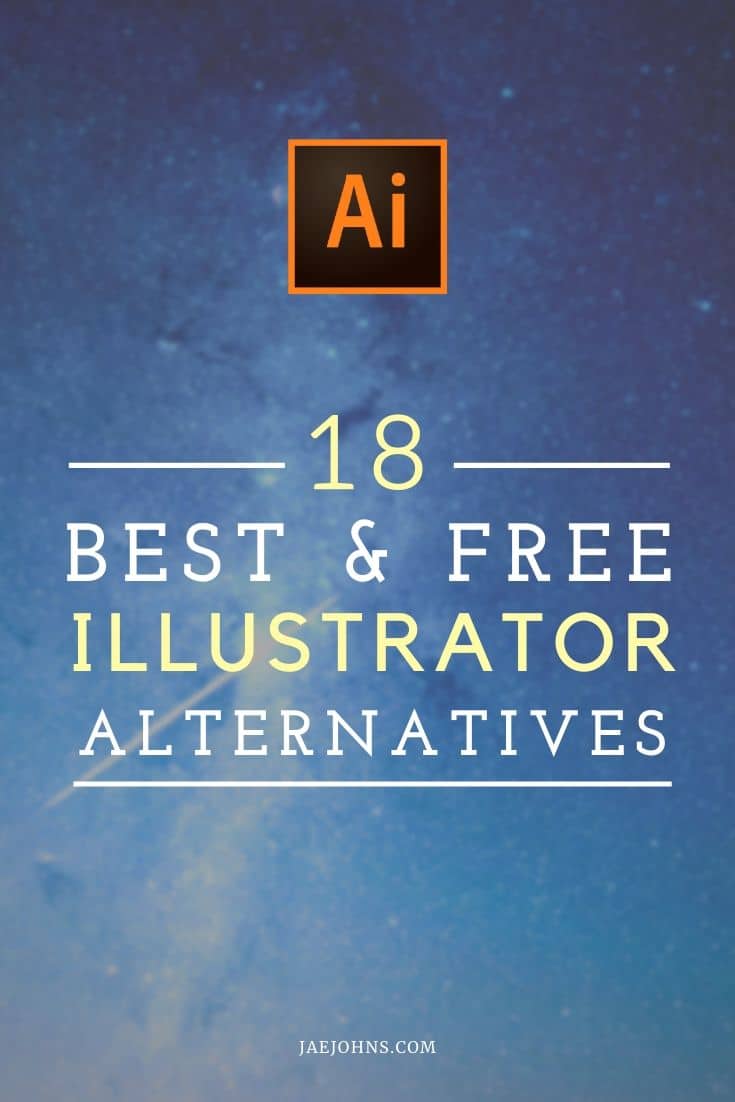 This completely amazing Adobe Illustrator alternative has all kinds of great tools to offer you. The system itself is perfect for making all kinds of creations. You can draw, create graphic designs, and so much more.
Inkscape is one of those systems that has a great online following with many people loving this free illustrator tool. Not only can you create amazing vector designs with absolute ease, but you can chase down any artistic passion.
I'm not even sure how a tool this powerful is free, but I am so glad that it is. It is always one of the best things to recommend for artists on a budget!
When a great web-based tool hits the market, people love to talk about it. You will not believe how great Vecteezy is for its completely free price. All you have to do is go to the website and get designing in no time. Not only does this website look and feel amazing, but it is also a ton of fun.
I'm partial to the easy tools and the vibrant color scheme. Something about just being able to log on and get straight to work is just amazing. There are so many great tools for various kinds of artists. See what this popular site can do for you!
People love Gimp for its logo almost as much as they love it for being such a great tool. Gimp is a completely free image source editor and painting tool. This means that you can easily modify images and enjoy creating great works of art at the same time.
Whether you want to draw, or you are looking for some other forms of art, chances are Gimp can support it. This amazing system makes it easy for you to get creating quickly after a simple free download!
Vectr is a totally modern and completely amazing free illustrator tool. It is probably one of my top suggestions for an Adobe Illustrator alternative. It is simply just a great system. You will love how modern and up to date all of the features are.
Unlike some of the other free systems, Vectr is clearly an up to date and relevant tool. You can get straight to work making amazing vector art in no time at all. With a quick free download and a little wait, you will be ready to create something great.
Sometimes you want a simple tool that lets you make great art. Boxy SVG is known for its many great features and cult following online. It is simply one of the best Adobe Illustrator alternatives around for artists. As long as you are open to perfect simplicity, you will love what you can do with this system.
It is especially great for beginners who are looking to explore digital art for the first time. It has a lot to offer the right group of people, and you can make magic happen with it!
This is another popular web-based system that provides a simple free illustrator tool. You can enjoy some of the more basic drawing tools within the website. Many people use these seemingly basic tools to make amazing works of art, so don't let the simplicity fool you.
This is an incredibly powerful and capable tool once you learn how to use it. This can be great for some distraction-free artwork, and it allows you to make beautiful vectors. Since vectors are the biggest perk for graphic designers, this is an incredibly necessary feature. Fortunately, it qualifies this as a helpful Adobe Illustrator alternative.
If the absolutely amazing name of this product doesn't win you over, the system absolutely will. You will love how easy it is to make high-quality vectors with this product. This Adobe Illustrator alternative has all that you could possibly need to make your next great project.
This free illustrator tool makes it easy for you to get creating in no time. It offers delightful tools and completely easy to use interface. It feels like a tool that was really made with users in mind. This is probably why so many people love it.
Many people are surprised to learn that Adobe XD can be used as a vector tool. This delightful Adobe system is great and completely free. While you might find yourself paying if you want to do anything insane and web design-related down the line, it is completely free to use.
You can make compelling vectors and excellent graphic designs with this intuitive Adobe product. It is easy for you to download and get to work, and Adobe even offers some truly great tutorials.
You won't believe how much power is in this free Adobe product. Just make sure that you download the desktop version to get to work. The app is more for viewing than anything.
As far as free Adobe Illustrator alternatives go, Adobe Illustrator Draw takes the cake. This tool is Adobe Illustrator on a mobile platform. While it does offer fewer features than true Adobe Illustrator, this free illustrator makes it easy for you to make great art.
You can download it on your phone or tablet and just get straight to work. You will love how many features carry over from the original system, and it is so easy to use. The simplistic design is just one of the many things that I love about this powerful mobile tool!
This top of the line free illustrator offers a completely professional workspace for the right graphic designer. You will absolutely love the power and simplicity of this system. It is a completely modern tool ready to help the right creator get to work.
The interface on this tool is simply the next level. It is known and loved by many, and they are nice enough to offer it up for free. Though Gravit does also offer a pro version, the free version is just fine for most people!
Some free illustrator options are better for certain styles of art. While you might not want to use this to create stunning drawings or complex works of art, it is great for graphic design. People love this graphic design tool because it offers customizations.
You can choose to keep your preferred tools closer, so your experience is completely original. Many people love this tool simply because they can optimize their design process. This is one of the many ways that it has become clear that this a tool that was made with users as first thought.
Free illustrator tools are often made for a variety of platforms, but this one prefers Google products. Using Google Chrome or Android, you can enjoy this easy drawing platform. It is an excellent Adobe Illustrator Alternative in a simple and easy to use package.
The interface is very easy to understand, which makes it great for users who are just learning. It offers a surprising number of tools for the simplistic design. This Google-biased platform is excellent for creating easy designs using your favorite devices. You can make some pretty amazing art with this one!
Vector Paint is another free illustrator that has a bit of a Google bias, but you can still use if without Google products. This is most known for its amazing Google Chrome extension, but they also have a wonderful website. All you have to do is type in the address and get straight to work.
This system will help you to create fun works of art without even forcing you to download something. It is completely web-based so you can stop messing around and get right to work. You will love making art with this easy tool!
For mobile designers, this free illustrator is probably the system of your dreams. You will love just how much functionality this amazing tool has. One look at the sample photos will show you how powerful of an art and design tool it is.
If you are looking for a way to create on the go, look no further. Though the app does offer in-app purchases for additional tools, this app is completely free. Give it a quick download and you can start making amazing designs while you ride the train to work!
Many people believe that this is one of the best apps in the app store and it is so easy to see why. This tool is packed full of absolutely amazing features. You will lose your mind over just how much you can do with this tool. Further, the quality of art that you can make with this app makes it easy to choose it over others.
This is certainly one of the best mobile art products around. I'm not sure how it can possibly be a free app, but don't miss out on your chance to download it today!
This is yet another amazing free app that can easily replace Adobe Illustrator for your art needs. This system offers a wide spread of tools, an easy user interface, and so much more. It is a complete illustrator system all with the ease of a mobile platform.
You can work on your artwork no matter where you are, and it makes getting down to work easy. Whether you want to just down a quick sketch or make your next design element, this app has you covered. Its expansive list of features makes it an easy choice for digital artists.
The concepts app is available on multiple platforms and you will be glad it is. This absolutely amazing drawing tool is perfect for so many different styles of artists. The first thing you should know is that it was made by professionals for professionals.
The second thing you should know is that it is filled with a rich list of features that you will not want to miss out on. There are so many selling points to this app, it is impossible not to encourage you to download it. This powerful design tool is perfect for all of your needs.
This vector-design tool is an absolutely amazing find on mobile platforms. You can easily create high-quality images and vector designs with this easy interface. It is the modern graphic designer's must-have tool in their arsenal. They have managed to pack an insane amount of functionality into an easy to use platform.
Everything that you could need is here, and the designs people are making are just stunning. This modern tool is perfect for helping you to get the most out of your mobile design efforts. You might even find it replaces your current favorite systems!
Read Also:
Conclusion
Adobe Illustrator is a great system, but it isn't the only one around. You might just find that some of the systems on this list actually suit your needs better. Since they are all free, there is no harm in trying them. Play around with these systems and see if you can find the right one for you!
Do you use any free Illustrator alternatives? Is there any on this list that you've tried? What has been your experience with it?